Porsche 918 Spyder - Nurburgring Lap Record - 6 minutes and 57 seconds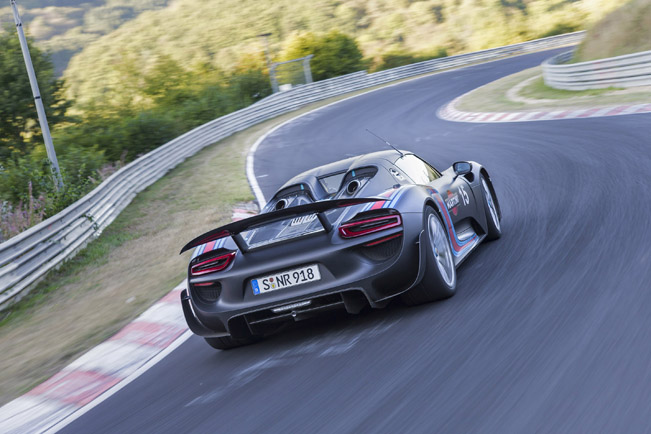 2014 Porsche 918 Spyder managed to set a new record at Nurburgring for a vehicle with global road homologation. It managed to close a lap at the famous Germany circuit in less than minutes.
The 918 Spyder has achieved exactly 6 minutes and 57 seconds. What is more, the new Porsche blends maximum driving dynamics with minimal fuel consumption. The record, which was previously held for four years, was broken during the first attempt in the test drive programme on the morning of 4th September.
All three drivers – Former European Rally Champion Walter Rohrl, Porsche test driver Timo Kluck and Porsche factory race driver Marc Lieb – were quicker than the existing record with each lap, driving the two 918 Spyder models used. Each driver posted lap times of less than seven minutes on numerous occasions. Ultimately, it was Marc Lieb who posted the absolute best time of 6.57 minutes, driving at an average speed of over 179.5 km/h(111 mph), as measured by Wige Solutions.
Porsche 918 Spyder is powered by a 4.6 liter twin-turbocharged V8 with 608HP (447 kW) and 530Nm (391 lb-ft) of torque. There are also two electric motors with 156HP (115 kW) and 129HP (95 kW) at each axle (front and rear). The maximum combined output is 887HP (661 kW) and over 800Nm (590 lb-ft) of torque. 0-100 km/h in 2.8 seconds and a top speed of 340 km/h (211 mph).
Source: Porsche