Porsche Team Gears 911 Carrera and Targa Models With New Goodies

2017 911 Carrera 4 and 911 Targa 4 models will benefit with the advantage of enhanced AWD system that is paired with special and innovative turbocharged engines, which are more powerful and more efficient than their predecessors. And with the standard adaptive Porsche Active Suspension Management with its 10 millimeter reduced ride height the vehicles will contribute to a better handling and more pleasurable ride.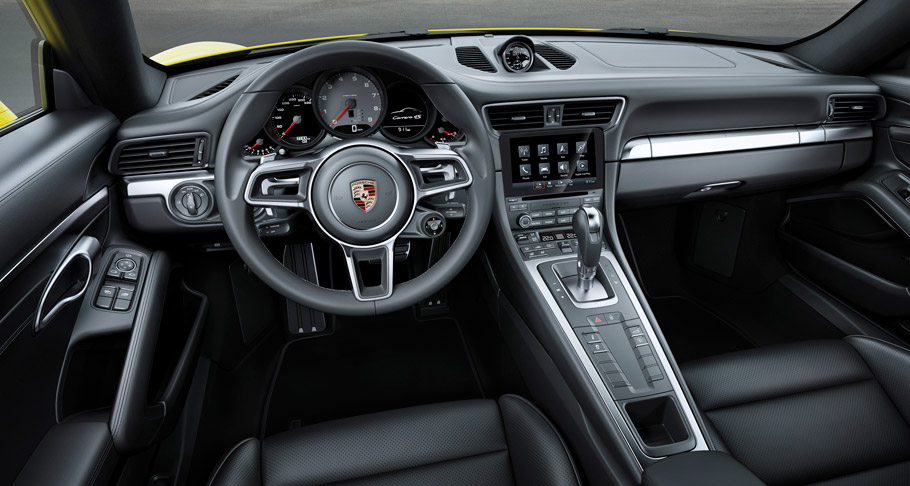 The AWD models will also offer and some more visual refinements for the 911 Carrera models, including fresh headlights with four-point daytime running lights, door handles without recess covers, reshaped rear decklid with vertical louvers and sweet new rear lights with four-point brake lights. Cool, right? Cool, but this is not all. Additionaly, Carrera 4 and Targa 4 will grant customers with neat light strip between the rear lights that is distinctive, thanks to its three-dimensional design. And when it is illuminated, you get that sweet impression of depth.

All these refinements, made on the new 911 enhance the sweet and elegant design off the Targa model. Definitely a model with unique design, the 911 Targa continues to stand out from Coupe and Cabriolet models. And like the original model, the latest Targa has  a retractable roof section over the front seats and wrap-around rear window without C pillars.
SEE ALSO: Porsche Cayman GT4 WIll Be Unveiled At Los Angeles Motor Show
Improved performance and lower fuel consumption
After four decades of research and experiments the result is here: a new 3.0-liter, flat six twin-turbo unit that sets new benchmark for performance, driving comfort and efficiency. And a sweet boost of 20 hp increase. So, the result now is stunning: the latest powerplant delivers a total of 370 hp (272 kW) and 331 lb.-ft. of torque, while the 4S models deliver a total of 420 hp (308 kW) and 368 lb.-ft.

And thanks to the new electro-hydraulically controlled all-wheel drive, the 911 Carrera 4 has even better acceleration and ends the 0-100 km/h (62 mph) in just 3.9 seconds. This makes a difference with a total of 0.3 seconds. The top speed ranges from 178 to 189 mph (320 to 340 km/h). And all this thanks to the new powerplants that are now paired to a special seven-speed manual transmission that comes as a standard feature.

And as you may have noticed, every new generation of Porsche engines deliver higher output and better fuel efficiency. So, this little guy offers an energy economy that is with up to 12% better than the predecessor model.
So, it looks like 2017 will be a good year for Porsche team. What do you think?
Source: Porsche