Mercedes-Benz SLS AMG Receives One-Off Prior-Design Aero Tuning

The tuner Prior-Design has surprised us with a new and extreme project. After a long and silent time, the specialists have finally released a car which is worth the attention. This time under the spot is the emblematic gull-wing Mercedes SLS AMG. The car alone looks fantastic, but after the addition of the PD widebody kit, it surely turns heads.
The sporty and elegant car was actually teased in the middle of February, when the tuner released just three photos of it as well as some details about the kit that it will include. And although it was said that the kit for vehicle will be available by the end of May. Prior Design has obviously made the impossible and are currently releasing it.
SEE ALSO: Meet the Better Version of Mercedes SLS AMG
 The aero-kit, named PD900GTWB, turns the SLS AMG into a real monster, as the tuners claim. If you ask whether there is something previously unannounced included, well, the news is sad, because there really isn't. However, only in terms of aero-components. There are some engine improvements added and more.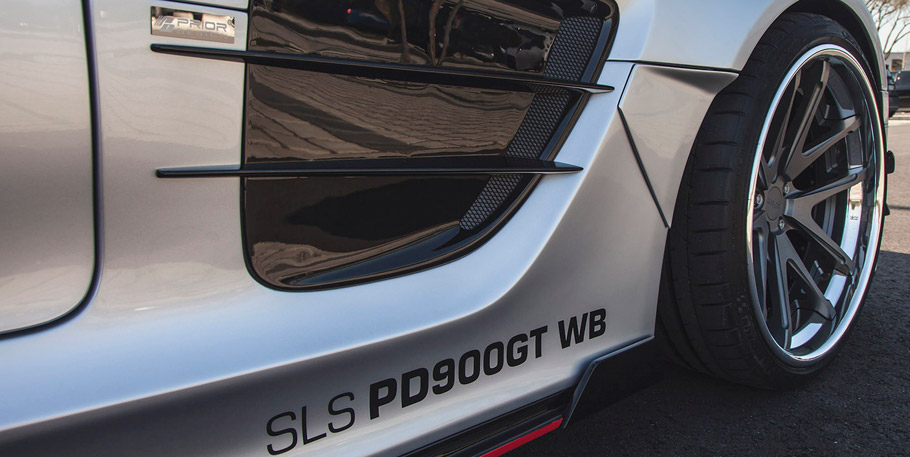 Aero-Kit
Still, if you meet this project for the first time, it is good to know that this Mercedes is very special because it differentiates from its siblings with new front and rear bumpers, side skirts and front fenders that widen it further, rear wideners, new hood and rear trunk spoiler. The widebody aero-kit is made of fiberglass-duraflex, but it can be purchased made of carbon fiber.
Wheels & Tyres
Of course, this beautiful car requires new wheels to run on. Precisely, they are three-part forged Rotiform SNA alloys in the size of 9x20" and 11x21" at the front and rear, respectively. The Dunlop SU 5P tires come in the size of 245/30 ZR20 and 305/25ZR21.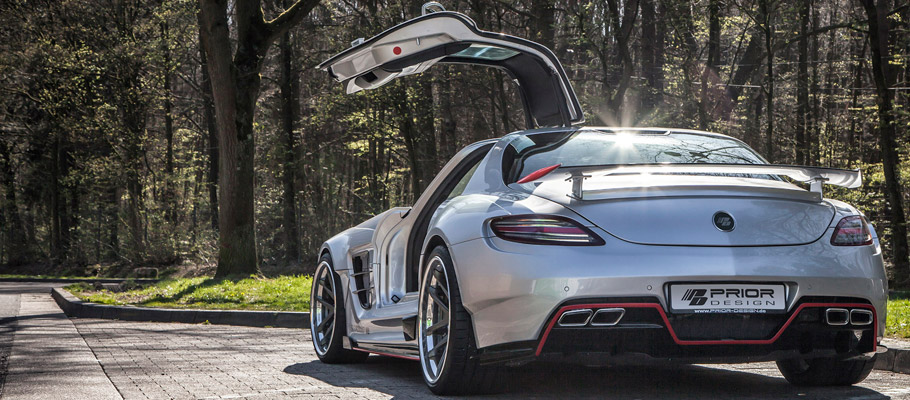 Suspension & Exhaust System
In addition, PD took care for the suspension of this car, giving it a KW coilovers that lower it with about 35mm. New exhaust system is also at hand.  It features 200Cell race cats, new manifold and muffler with clap control. The result is a power improvement with 40 PS.
Engine Chiptuning
The performance of the vehicle was further improved via chiptuning. Additional 30 PS and 40 Nm were added to V8's standard parameters. In details, AMG's 6.2 liter engine produces 571 PS (420 kW) and 650Nm (479 lb-ft). You can make the math.
Source: Prior Design