MISHA Designs Releases Stylish Gullwinged SLS AMG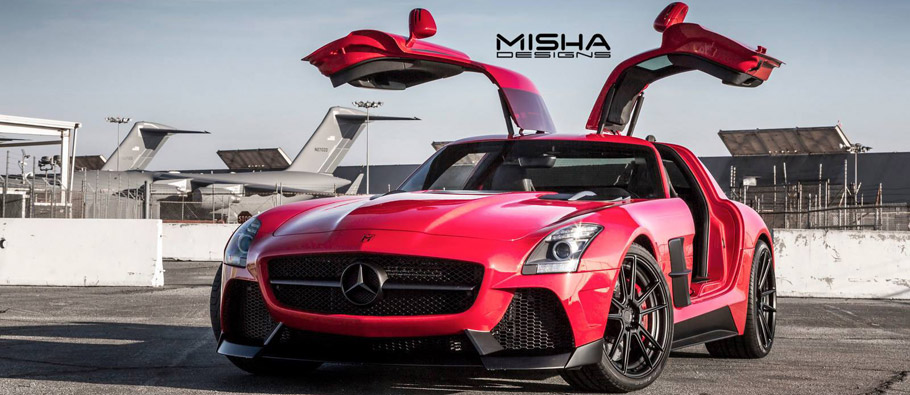 This news is really hot, since MISHA Designs has just released the first official photos and data of their new project. And you are on of the lucky people to see it first, and we promise you that it is worth it! The tuners are mainly famous for their exquisite modifications on two brands: Mercedes and Porsche. And as you can see from the pictures, the new one involves Mercedes. But this is not just a simple S class but the gullwing SLS AMG!
I must mention that the red color of the car is the first thing that captivated my attention and I definitely like it better than company's previous project, which involved the same model colored in yellow. Then, the next thing to capture the sight is the aero package, which gives the car unique appearance.
The kit comprises of specifically developed for the model front bumper lip, as well as hood mount and vent covers. The latter elements help the car breath easily and cool down its untamed character. At the sides, the changes continue with skirts and side vent covers, while the rear gets new diffuser.
Proper size of the rubbers and alloys is always needed when it comes to extreme cars and exquisite tuning. The wheels for this particular project were delivered by ADV.1., while the tyres are coming from Pirelli and are with low profile.
There is nothing changed in the engine, so there are no surprises. Basically this car is driven by the naturally aspirated 6.2 liter AMG V8 unit, which produces the astounding 571 hp (420 kW) at 6,800 rpm and 650 Nm (479 lb-ft) of torque at 4,750 rpm. These impressive numbers allow the car to sprint from standstill to 100 km/h in mere 3.7 seconds on its way to a top speed of 317 km/h (197 mph).
Source: MISHA Designs