Project Black Diamond: SR Auto Maserati Quattroporte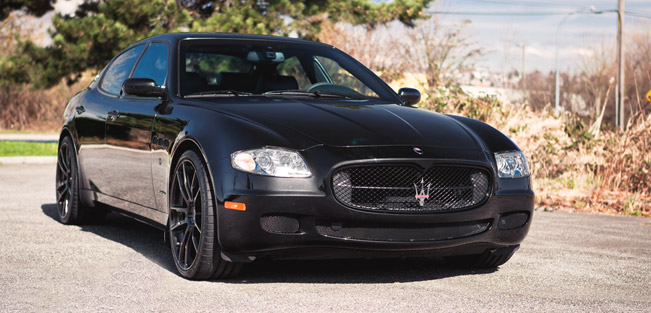 Under the name Project Black Diamond hides a unique vehicle by nature. We are speaking here about version of the exceptional Maserati Quattroporte tuned by the talented specialist at SR Auto Group. This Maserati model is powered by an impressive 400 hp (295 kW) 4.2 litre V8 engine.
The latter allows the vehicle to have a Vmax of 167 mph. In addition it also highly contributes towards the stunning acceleration time from 0 to 100 km/h, which is 5.6 seconds.
This powerhouse sedan has been fitted with a set of Black Diamond monoblock PUR 1NE's in a twenty one inch profile. To be more precise the sizes were exactly 21×9 for the front and 21×10.5 for the rear. The sleek and mysterious motif can also be seen onto the Larini Exhaust System with remote valves. There the tips include also a bespoke crystal black finish.
Source: SR Auto Group