Revitalized: D2Forged Lamborghini Murcielago CV2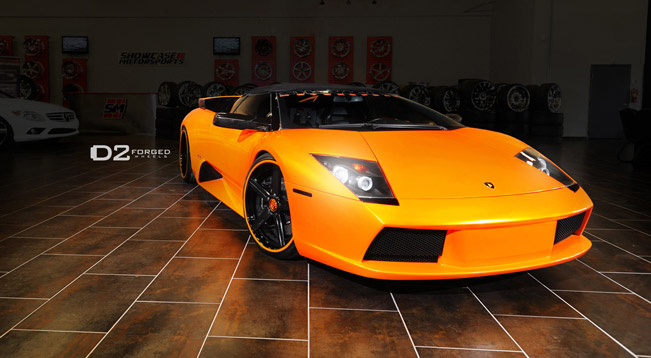 D2Forged Lamborghini Murcielago CV2 is a tuning which is needed to be observed more thoroughly. The Murcielago is one of the most iconic supercars that have been produced in the past ten years and it definitely could be named a "dream car".
The famous Lamborghini model made its debut back in 2002 in North America and back then it was the most powerful vehicle of the line ever produced. Thanks to its V12 engine it produces 670 hp (493 kW) which meant that it's carbon fibery body is capable of accelerating from standstill to 62 mph (100 km/h) in just 2.9 seconds.
The timeless design of the Murcielago in the present case was enhanced by D2Forged via adding brand new wheels. The new set of clean, sporty and aggressive D2FORGED CV2 Shallow Concave wheels have been finished in a full blacked out color scheme, with a color-matched outer pinstripe and hand painted "D2″ centercap small details in Lamborghini's Arancio Borealis finish.
Although this is very simple enhancement you can see how it affects the overall appearance of the supercar. Thanks to it the latter is revitalized, and ready to "rock-n-roll"! To be more precise, the D2FORGED CV2 Shallow Concave wheels are in size 20×8.5 and 20×13″ for the front and rear respectively.
Source: D2Forged Wheels