Rieger's Audi A5 Sportback Bringing The RS Spirit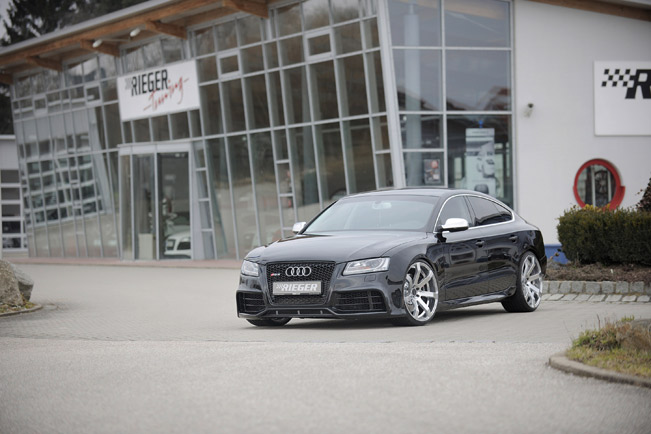 Look at what we stumbled upon. It's a pre-facelift Audi A5 Sportback. And hey, it's been touched up by Rieger! Say hello to a tuning program that involves quite a few visual upgrades and some performance tweaks.
Initially, we were a bit perplexed. Looking at the front grille, someone said, "Hold on a minute. Sportbacks don't come in RS form" Nope, they don't. Rieger offer front bumpers and grills that basically belong to the RS. The Sportback has also been treated by some new side skirts and a rear apron. There's still space, though, for the four custom exhaust tips which measure at 115x85mm each.
H&R sports springs bring the whole body closer to the ground and leave very little space below the wheel arches. That's also partly because of the are humongous wheels: 10.5x21 in a beautiful design and tires with a barely visible profile (Dunlop Sport Maxx GT 275/25 R21).
Because this is a Sportsback, best case scenario dictates that  it bares a 3.0 TFSI supercharged V6 boasting 329 hp at the least. Because Rieger have also thrown in an RS braking system, we are inclined to think that someone might have amped the power a bit, but we don't really know for sure.
Source: Reiger