New York Auto Show: 2014 Toyota Highlander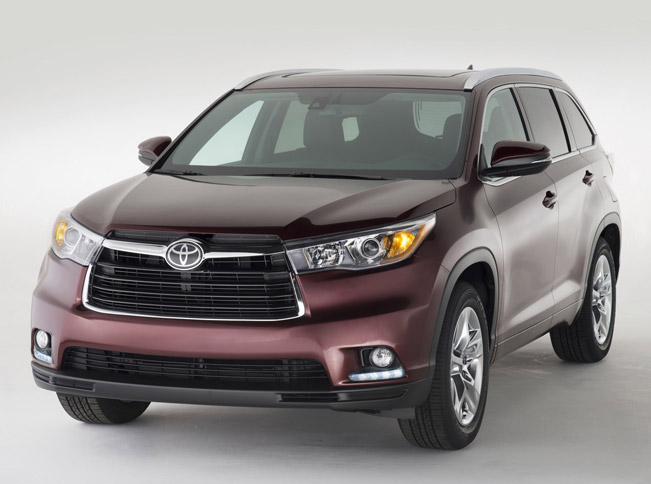 Another debut at New York Motor Show is for 2014 Toyota Highlander which is the third generation mid-size SUV. Its new exterior design is refined and strengthened and in addition is complemented by more spacious interior with an array of comfort, convenience and technology features.
The new Highlander shows-off progressive silhouette, enhanced aerodynamics and sculptured side-door panels. This contributes to a more sophisticated and dynamic appearance. The exterior is now wider and includes a trapezoidal grille, wrap-around headlamps, bold fenders and a newly styled rear liftgate.
The front A-pillars of this Toyota model were repositioned which results in improved visibility. At the same time the size of the rear quarter glass has been enhanced in order to deliver a wider view for driver and occupants.
The interior on the other hand includes refined and more functionality features with premium materials and fittings, including a soft-touch instrument panel and easier access to the third row. The cargo space behind the third-row seats has also been increased.
Toyota's new mid-size SUV will be equipped with a 3.5-litre V6 engine with a variable intake manifold and dual variable valve timing with intelligence. The latter controls phasing on both the intake and exhaust camshafts to maximize torque and fuel efficiency.
In addition, the new six-speed electronically controlled automatic transmission contributes towards an optimized fuel efficiency. Some of the technologies which deliver more dynamic driving experience are the Dynamic Torque Control All-Wheel Drive, enhancements in suspension performance, and optimized electric power steering. Car's handling has been also enhanced through the tuning of the springs and shock absorbers.
Next, Highlander's Dynamic Torque Control AWD system utilizes information sent from various sensors (speed, steering angle and speed, throttle angle and yaw rate) to automatically govern the transmission of torque to the rear wheels.
2014 Toyota Highlander Powertrain:
Engine: 3.5-litre V6 with dual VVT-i
Transmission: Six-speed ECT-i
Drive system: Front and All-Wheel-Drive
2014 Toyota Highlander Exterior Dimensions:
Overall length: 4850 mm
Overall width: 1925 mm
Overall height: 1730 mm
Wheelbase: 2790 mm
Source: Toyota