Toyota iQ: six degrees of innovation - No5
Innovation No5: the Asymmetrical Dashboard
The fifth cut-paste-and-print guide to the design and engineering innovations in the new Toyota iQ explains how an asymmetrical dashboard design made it possible to maximise interior space.
Thanks to the much smaller air conditioning unit developed for iQ (the subject of the Innovation No4 bulletin), Toyota was able to reshape the dashboard to free up more space ahead of the front seat passenger.
The dashboard has an asymmetrical shape, and is slimmer and positioned further away from the passenger seat, towards the centre of the windscreen. The result is an extra 130mm of legroom in the front compared to the larger Toyota Yaris.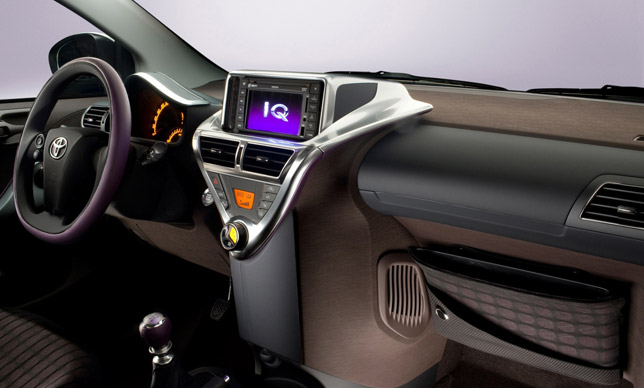 What's more, this means the passenger seat can be slid 50mm further forward than the driver's seat, allowing a tall adult to sit comfortably in the seat behind. Even with the front seat in its furthest forward position, the step-like dashboard structure means there is still a comfortable amount of leg and kneeroom.
The generous forward and aft front passenger seat adjustment also makes for easy access to the rear.
The benefits in interior space gained from the asymmetrical dashboard design are supported by a new ultra-slim seat design, the subject of the next – and final – iQ innovations bulletin.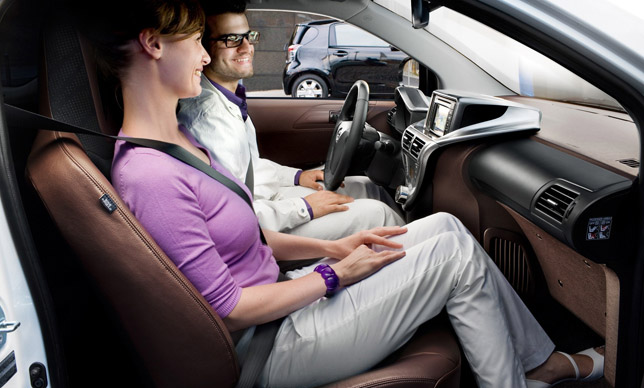 Innovation No1: The front-mounted differential
Innovation No2: The Centre Take-Off Steering Gear.
Innovation No3: the Flat Under-floor Fuel Tank
Innovation No4: the Space-saving Air Conditioning Unit