Vauxhall ADAM S with Premiere in Paris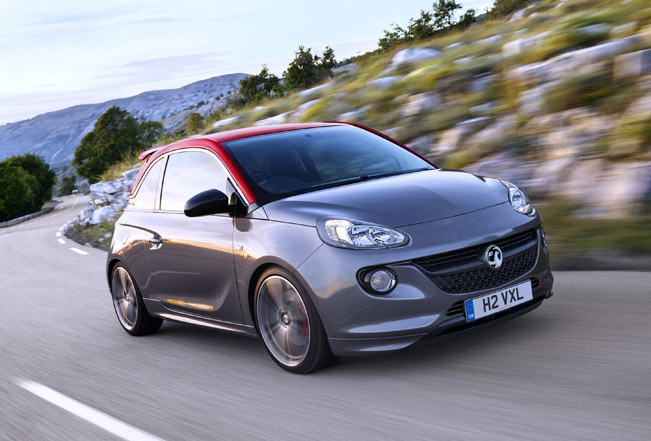 Vauxhall revealed that it will premiere the top-of-the-range ADAM S model next month at the 2014 Paris Motor Show. The car was previewed in March at this year's Geneva Motor Show, where it showed its slick design, its potent 150 hp 1.4-litre turbo engine, its specially-tuned chassis and its VXR braking system. ADAM S visually appears more muscular than the standard ADAM, due to its front lip spoiler, side sill moldings and an extended rear bumper cut-out with a visible, bold exhaust tailpipe.
The company will offer to its customers ten body paint choices and four roof combinations, which are available with the Red 'n' Roll roof design reserved exclusively for ADAM S customers. The distinctive rear spoiler above the rear window and the special ADAM S logo on the C pillars round out the specific look.
The interior of this car offers the driver and front passenger the opportunity to choose between four different seat arrangements, three of which are exclusively available for this ADAM variant, including the Recaro Performance seats in Morrocana or nappa leather. The interior reflects the Red 'n' Roll design in many ways. An instance is the optional leather package which features black and red steering wheel, gear knob and handbrake in leather or the red and white lighting for the instrument panels and doors.
ADAM S also features as a standard a tinted LED daytime running and rear tail lights, electronic climate control and sophisticated IntelliLink system. The system provides USB and Bluetooth connectivity, audio streaming, seven speakers, 7-inch high-definition colour touch-screen, navigation by the BringGo app, Stitcher and TuneIn apps.
The new version of the 1.4-litre Turbo ECOTEC engine which powers the car produces up to 150 hp (110 kW) and 220 Nm (162 lb-ft) of torque. Combined with a six-speed manual gearbox, this powertrain propels the ADAM S from 0 to 100 km/h (0-62 mph) in 8.5 seconds and to a top speed of 124 mph.
In addition, ADAM S's unit is fitted with Start/Stop technology and the engine already meets Euro 6 emission standards. The dual cam phasing for continuously variable valve timing and a turbocharger integrated within the exhaust manifold are characteristics of the engine which make it lighter and more compact. The combined fuel consumption is rated at 44.1 mpg while the CO2 emissions – at 149g/km.
This Vauxhall also has some sporty credentials thanks to its specially tuned performance chassis and direct, sharp performance steering. ADAM S also features large VXR S brakes, custom-made for the various wheel sizes, and runs on a standard 17-inch or optional 18-inch alloy wheels.
Vauxhall ADAM S will go on sale in January next year.
Source: Vauxhall