Opel Adam S - 150HP and 220Nm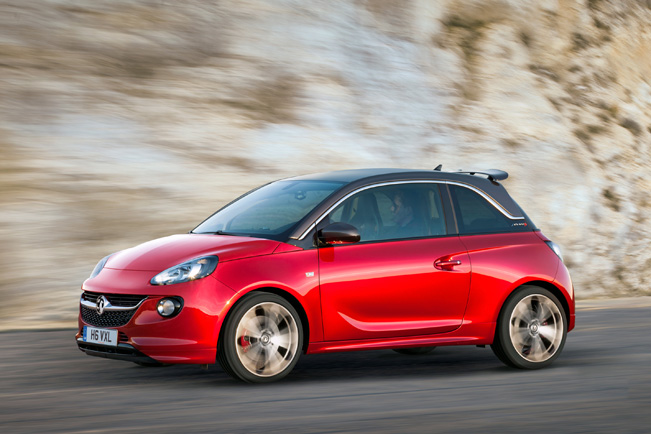 Opel is going to showcase the range-topping Adam S at the 2014 Geneva Motor Show in few days. The German manufacturer will also exhibit Adam Rocks as well as the super-efficient three-cylinder Adam powered by 1.0 liter ECOTEC Direct Injection Turbo gasoline engine.
The Adam S is powered by a 1.4 liter four-cylinder turbocharged petrol with 150HP (110 kW) and 220Nm (162 lb-ft) of torque. This means 0-100 km/h in less than 8.0 seconds and a to pspeed of 220 km/h (137 mph). The engine is connected to a 6-speed manual gearbox sending the power to the front wheels. Compared to the naturally-aspirated engine, the turbo unit offers 50% more HP and 70% more torque.
Other highlights include a set of 18" alloy wheels fitted with 225/35 R18 tires. Behind them, there is braking system including OPC S brakes with 16" front and 15" rear discs equipped with red brake calipers. There is a complete aerodynamics package together with an aggressive exhaust. Last, but not least are the LED DRLs and taillights.
The interior boasts leather Recaro performance seats, IntelliLink infotainment system, electronic climate control and a black privacy glass. The leather package consists of a red leather-trimmed steering wheel, gearshift and handbrake as well as distinctive red and white flashes on the instrument and door panels.
Source: Opel