Volkswagen Announces GTI Clubsport. Is this the fastest GTI Ever Produced?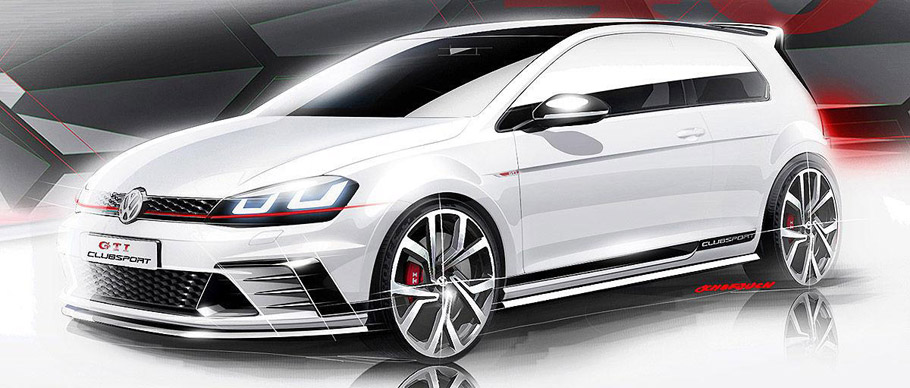 Volkswagen has exclusively released the first official sketches of the upcoming Golf GTI Clubsport. It is actually a concept, which we will see debuting at this year's Wörthersee event. Judging from the three sketches, which you can view thoroughly below, the car has very production-like attitude and we sincerely hope to see it not only in a concept form.
Exterior
The sketches reveal a specific Golf-infused exterior, which however features some specific details. The front bumpers for instance are new and they include aggressive and sharp air vents.
The diffuser at the back has been also redesigned, while the roof can now show-off with a new roof spoiler that hints to more aerodynamic stability. All of this comes in a very nice overall styling that is further supported by the unique five double-spoke wheels fitted with low-profile tyres.
SEE ALSO: What is the Difference Between 2015 and 1985 Golf GTI?
Drivetrain
No words on the interior, but there is a very pleasing data about the engine. The car will be powered by a 2.0-liter turbo unit, which will be capable of producing around 265 horses (195 kW). This number actually promises to make the Golf Clubsport the fastest GTI ever produced.
Since there are no additional details, we will wait until 13th of May to see whether this is true or not. This is when the car will make its official reveal at the 2015 Wörthersee meeting. What we are sure of is that with this car Volkswagen will celebrate the 40th anniversary of the iconic Golf. Just look at the "40" in the background of the first picture in our gallery.
Source: Volkswagen