Volkswagen T5 by ABT Sportsline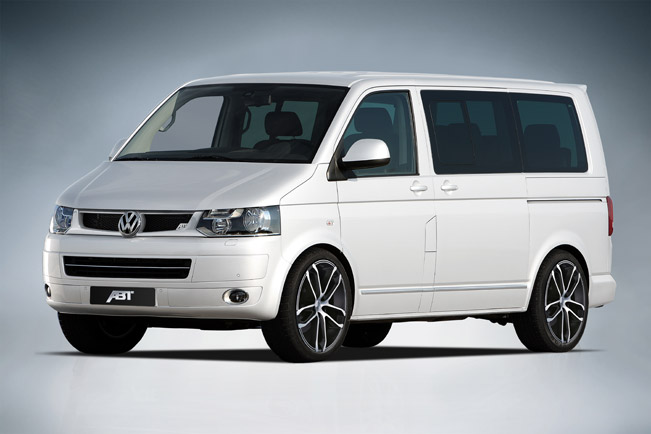 After 11 years of production and going through a huge crisis, the popula Volkswagen T5 is still beloved by it's fans.
Because of that, ABT Sportsline - the world's largest tuning manufacturer presented by Volkswagen Group present a new promotional package for model T5. ABT Sportsline significantly improved the vision of  the T5 by implementing sportier design and improving the performance of the vehicle.
Thanks to the ABT Springs, the CoG of the vehicle looks lower and improve the overall performance  of the Volkswagen T5. ABT designers also offering  a mighty 20'' ABT CR double spoke wheels painted in "mystic anthracite matt", which are completely in harmony with the overall vision.
The sports impression is complemented by ABT front grille with its frame in the colour of the car. The designers put a discreet rear spoiler making the drivers behind you to know that is not an ordinary tedious van.
"You now can get the front guard, rear spoiler, springs and a set of 20'' CR wheels for a special price," as says the CEO Hans-Jürgen Abt.
The ABT Sportsline designers have improved the exterior too. They created a new complete body kit, which is full of new accessories like a new front bumper and a new rear diffuser. With all these improvements the German tuning company ABT Sportsline make this classy van even more exciting to drive.
Source : ABT Sportsline