Volkswagen Touareg 3.0 TDI Clean Diesel - World Record
An epic journey was completed by Rainer Zietlow and his team driving Volkswagen Touareg 3.0-litre V6 TDI Clean Diesel. The Carretera Panamericana race took 11 days, 17 hours and 22 minutes and a total of 22 750 kilometres on the route between Tierra del Fuego and Alaska.
Zietlow and his team passed through 17 countries as well as most of the Earth's climate and vegetation zones in the record drive, which has been certified by the TÜV Nord testing organisation.
The 2011 Volkswagen Touareg TDI Clean Diesel SUV proved its efficiency in extreme conditions of heat, heavy rain, sandstorms or snow. The Eco-friendly vehicle has a 3.0 liter V6 TDI with 225PS (165 kW) at 3500RPM and 550Nm (406 lb-ft) of torque at just 1750RPM. The power is put on the road through 4MOTION  AWD system. Besides the heavyweight and the all-wheel-drive system, the SUV offers class leading fuel economy 8.4 liters per 100 km (28 MPG) on highway and 12.4 l /100 km (19MPG) in city.
In order to account for the demands of the TDI-Panamericana Endurance Challenge, this Touareg has been modified to include:
Innovative Inmarsat satellite technology for live communication even in the most remote areas
The largest tires that fit the Touareg to better address bumpy roads through South America
An additional 300 liter fuel tank to extend the distance the vehicle can travel between fuelings
Check out the pictures from the journey, below!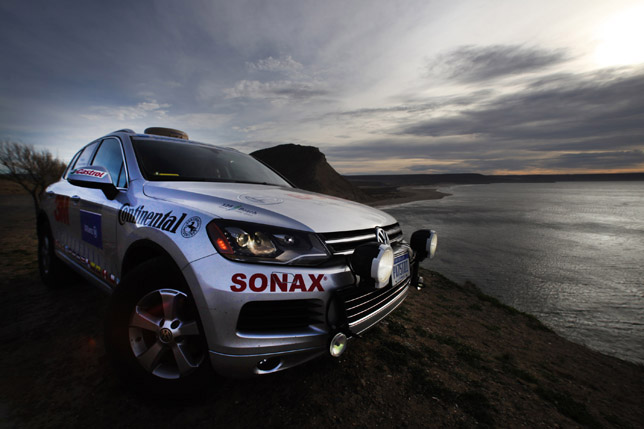 Source: Volkswagen