Vorsteiner Bentley Continental GT BR10-RS Edition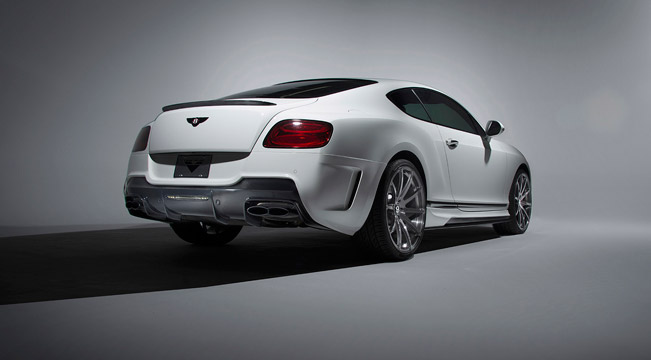 Vorsteiner offers new perspective of its latest Bentley Continental GT BR10-RS Edition. The new photoshoot mainly focuses on the rear of the car and its carbon fiber elements that were added by the tuning company. Precisely, it is an aero package, which as you can see features front bumper, side skirts, rear bumper and deck lid spoiler all made of the aforementioned lightweight material.
This Continental GT is powered by a 4.0 liter twin-turbocharged V8 which delivers 528 horsepower (389 kW) at 6,000 rpm, as well as 680 Nm (502 lb-ft) of torque available at just 1,700 rpm. The powerplant is coupled with a close-ratio ZF 8-speed automatic transmission. All this makes it possible for the car to accelerate from 0 to 100 km/h in only 4.5 seconds on its way to top speed of 308 km/h (191 mph).
In addition, Vorsteiner has decided to give new shoes to this Bentley. In this way it will be even easier to translate all this power that the car produces onto the road. Precisely, the new wheels are Sport Challenge Forged VSC-103 Forged Monoblocks. They are finished in Gloss Brushed Shadow and come in the staggering size of 22 inches.
At the front the dimensions measure 22 x 9 inches, while at the rear - 22x10.5. At last, the new wheels were fitted with Pirelli P Nero in the appropriate dimensions: 255/30/22 and 295/25/22 at the front and rear, respectively.
Source: Vorsteiner