Vorsteiner V-MS Program for BMW 5 Series M-Tech
Vorsteiner is a company that spends a great deal of time focusing on designing wheels. And they are not looking bad at all. From time to time however, they tend to issue full-blown tuning programs complete with aerodynamic sets, wheels naturally and exhaust systems. Their latest one is called the V-MS Program and in order to eligible for it, you must posses a BMW 5 (F10) series that has the factory M Tech aero package.
The Vorsteiner provided aero bits are all from the company's pre-peg carbon fiber line. That includes a specially designed front spoiler, a subtle trunk lid spoiler and a high-temperature resistant diffuser between the Vorsteiner F10 Sports Exhaust pipes. They on the other hand, offer a tiny power boost (+12hp and 2lb/ft of torque according to their dyno test) and also, they can sing pretty well, Formula 1 style. Rounding up the look, are the four 20 and 21-inch custom made forged wheels on which the car sits. They have been specifically made for the F10 with their 5-spoke star design matte black feel. Another thing finished (or not-finished) in matte black is the bodywork itself. I have to admit that, combined with the visible carbon aerodynamic elements, all looks astonishingly well. The only problem I have with this car are the taillights. They look like those "Shutter Shade" glasses people wear to look like Kanye West. If you are going to go subtle, go subtle – tint them or leave them as they are.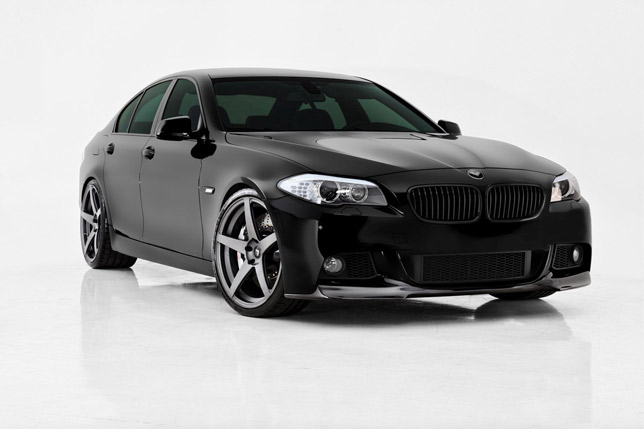 Source: Vorsteiner