Vorsteiner Shows Mercedes-Benz C63 AMG V-FF 101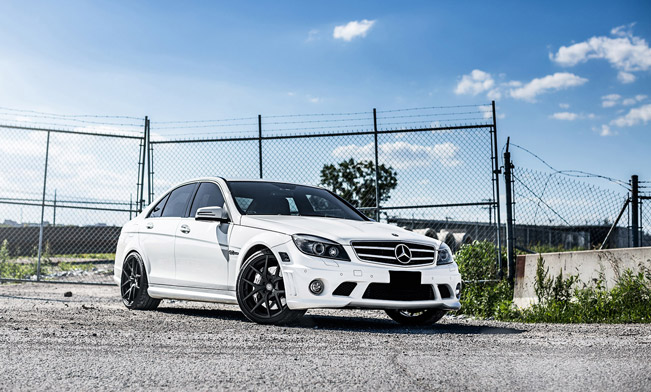 Vorsteiner Mercedes-Benz C63 AMG is impressive. Not only because of its superb 6.2-liter eight-cylinder V8 engine, but also because it sits on astounding new wheels an has some aero tweaks. But first, the engine produces 507 horsepower (420 kW) and 610 Nm (450 lb-ft) of torque. It accelerates the car effortlessly from 0 to 100 within 3.9 seconds. The car has an electronically-limited maximum speed of 250 mph.
Vorsteiner's program for this Mercedes Benz C63 AMG includes front add-on spoiler and vent louver covers. Of course, they were made of nothing else but carbon fiber. The same material was also utilized for the front hood grill, front fender grill cover and side skirt panels. The boot lid replacement with integrated spoiler wing as well as the rear vented diffuser is also carbon.
The new side skirts with integrated vents for the rear brakes improve the cooling and the overall aerodynamics of the car. At the rear Vorsteiner not only added the aforementioned elements, but also there is also a quad sport exhaust system housed by a new redesigned diffuser.
At last, Vorsteiner Mercedes-Benz C63 AMG runs on the one-piece V-FF 101 Flow Forged wheels in Matte Black Finish. They come in size of 19x8.5 at the front and 19x10 at the rear, and are wrapped with Michelin Pilot Super Sports in 235/35/19 and 265/30/19 sizes.
Source: Vorsteiner