Zagato Maserati GS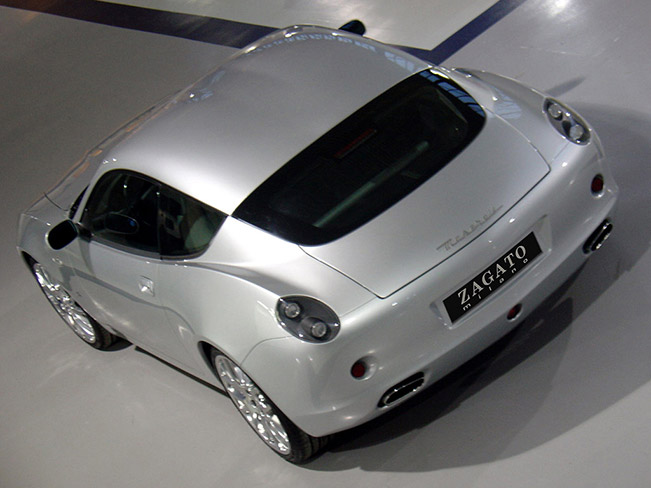 One year after the presentation of the Ferrari 575GTZ, Zagato returns to Villa d'Este with a world preview for fans of Italian sports sedans: the Maserati GS Zagato.
In the most classic traditions of exclusive collections that inspired the creativity of car designers in the '50s and '60s, Paolo Boffi, well-known entrepreneur in the furnishing and luxury design sector, has commissioned from Zagato a customised look for his Maserati GS Spyder.
Zagato proposes a line that evoked the historical Maserati A6 G Zagato of 1954: one of the most beautiful Italian sedans ever built, and nowadays at the top of every collector's wish list.
The Maserati GS Zagato, like its celebrated ancestor, has all-aluminium bodywork and bears the Trident on the bonnet and the Z on the wing, expressing eternal Italian excellence in its shape and its content. A winning combination that matches powerful and reliable mechanics, with an elegant and and sports style, both rigorously Made in Italy.
For purists of the compact coupé, afficionados of the Milano-based brand, it is a two-volume, two-seater, hatchback with a streamlined profile and a neat tail.
The wheelbase is 180mm shorter, a spin-off from the Spyder, provides excellent handling and stability on curves, with extraordinary torsional rigidity.
In homage to the tradition of the gentlemen drivers who asked Zagato to transform the bodywork of their cars, modern collectors choose mechanics at the top level of technical evolution and 'dress' them in tailor-made garments that increase in value as time passes.
This is the mission of a modern automobile atelier: to create timeless objects that celebrate prestigious models and brands and which, unlike mass produced vehicles, are destined to last for ever.
Zagato, born in 1919 as an atelier for automobiles and planes, has put its signature on all the most important mechanics of the last century, earning the opportunity to create, every time, an "instant classic".
Zagato's strengths lie in the concept of sports-style elegance, a functional design that does not bow to momentary fashions but seeks out the excitement and pleasure of driving, and in the precious aluminium bodywork, a value recognised everywhere.
The Maserati GS Zagato will be on show at the Concours d'Elegance Villa d'Este, to be held in Cernobbio (Italy) 20 -22 April 2007.