2012 Peugeot 4008
Finally, Peugeot tried to fix their huge mistake – 4007 model. The new 2012 Peugeot 4008 boasts distinctive, stylish appearance and 4x4 SUV features - 2x4, 4x4, and LOCK.
The vehicle looks rather better than the outgoing model. The new Peugeot SUV has floating grille and a feline design of the lamp units with visual signature: at the front, a line of LED daylight running lamps that complement the headlamps and three red claws sculpted rear lamps.
The off-road character has been emphasised by adopting a vertical design of grille, inclusion of body sill protectors and prominent wheel arch protection trims, to accommodate large wheels enhanced by the sophisticated design of the wheel rims. The almost-horizontal bonnet grooves and the style line - which extends to the rear wing where itdescends again crossing the lamp - are a distinctive feature and appear to hollow out along the body side, accentuating the strong and dynamic aspect of the 4008.
The engine range includes a 1.6 liter petrol with 115PS (85 kW) and 152Nm. There is also a bigger petrol with 2.0 liters of displacement and more power – 150PS (113 kW) and 198Nm (146 lb-ft).
Of course, a diesel variant is more suitable for a SUV – a 1.6 liter HDi with 110PS (82 kW) and 270Nm (199 lb-ft) or a 1.8 liter HDi with 150PS (110 kW) and 300Nm (221 lb-ft). Both engines are mated to a 6-speed manual gearbox.
Hopefully, the new 2012 Peugeot 4008 is more successful than the previous effort of the manufacturer to build a SUV.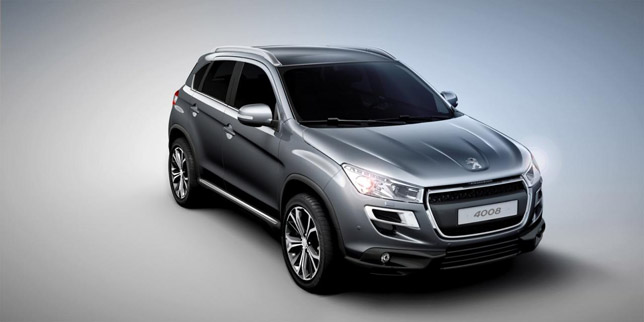 Source: Peugeot