2013 Audi A4 B8 Facelift tuned by Rieger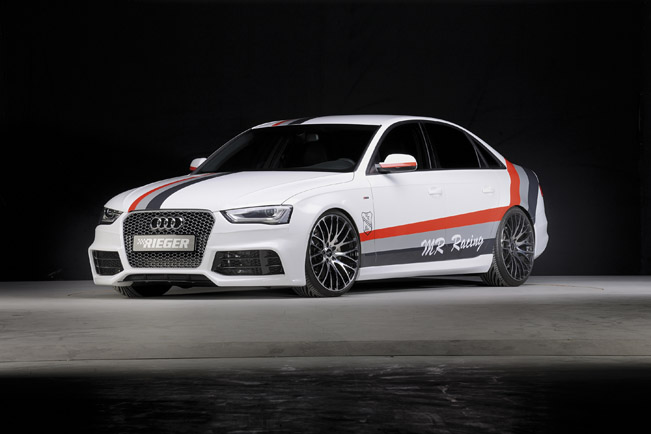 Rieger has presented their tuning program for the new Audi A4 B8 Facelift. The tuning company offers a number of styling modifications.
The exterior boasts a complete body kit including a new front bumper, a pair of side skirt, modified rear bumper and sports exhaust system. Other highlights include MR Racing Stripes and a set of huge wheels fitted with low profile tires. The choice is between TOMASON TN9 - 8,5Jx20 ET 45 with 245/30 R20 and 8,5Jx20 ET 45 with 245/30 R20; and CORNICHE MONZA 9,0Jx20 ET 40 fitted with 245/30 R20.
Rieger also offers performance packages for both petrol and diesel engines: 1.8 TFSI; 2.0 TFSI and 3.0 TFSI. The diesel range, which can be boosted include 2.0 TDI, 2.7 TDI and 3.0TDI. The pricing for engine re-map is €890.
All parts fit perfectly to factory elements and are made form high-quality materials.
Source: Rieger