2014 Geneva Motor Show: Nissan GT-R Nismo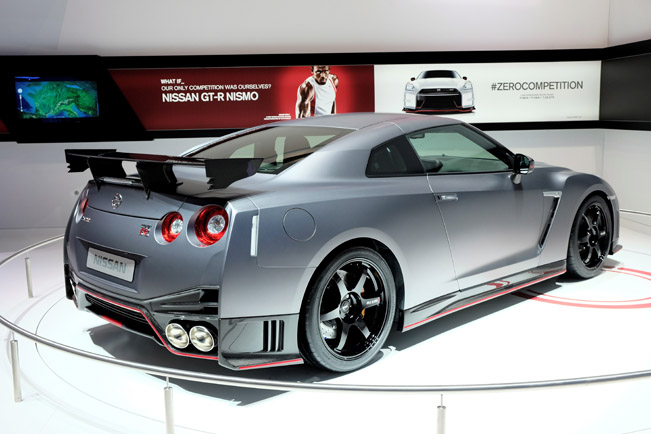 Nissan GT-R Nismo EU-Spec has made its official European debut at the 84th Geneva Motor Show. The super-powerful sports car comes with enhanced engine and aerodynamics.
The 3.8 liter twin-turbocharged V6 now delivers 600HP (441 kW). Advanced aerodynamics generating additional 100kg of downforce at 300km/h (186mph) for exceptional road-holding.
2014 GT-R Nismo boasts uncompromising engineering and motorsports-inspired technologies to achieve new levels of power, speed and handling.
"With a 7:08.679 lap time, we can authoritatively say that the Nissan GT-R Nismo holds the volume production car lap record at the Nurburgring Nordschleife, which is the gold standard of high performance achievement.", said Nissan CEO Carlos Ghosn.
Engine
Under the hood, the 3.8-liter V6 engine benefits from the know-how that Nismo has gained from participating in such events as the world-renowned Nürburgring 24 hour race. Engine power has risen and is now rated at 600PS (441kw) and 481 lb ft (652 Nm) of torque.

New high-flow, large capacity turbochargers, which are used for GT3 racing, improve breathing, while optimized individual ignition timing control for each cylinder and upgraded fuel pump improve combustion.
Chassis
The springs and custom-developed Bilstein DampTronic dampers in the front and rear suspension are specially tuned to deliver exceptional grip levels and progressive handling response at the limit. Three suspension modes can be selected: Comfort, Normal and R, for circuit applications.

Exclusive Nismo tires - developed by Dunlop - exhibit outstanding grip and handling characteristics. Front: 255/40 ZRF20; rear 285/35 ZRF20.

Specially-developed links fitted to the front double wishbone suspension increase castor trail to optimize wheel position during high-G cornering and improve straight-line and cornering stability. Additionally, large high-rigidity bolts are used to increase stiffness of the wheel-hub attachment area.

To minimize body-roll during cornering and changes of direction, the Nissan GT-R Nismo features a 17.3 mm hollow rear anti-roll bar which raises roll stiffness while reducing weight.
Body construction
Increased rigidity in the bodyshell is achieved using adhesive bonding in addition to spot welding leading to precise suspension response under extreme load, the Nismo "factory tuned" enhancement.
2. Exterior design - Exclusive styling with improved aerodynamics
Using the latest Computational Fluid Dynamic simulation techniques to analyze airflow, Nismo has developed an aero package that improves road-holding, minimizes the negative impact of drag, while giving the car a menacing and muscular appearance.

Together, the front bumper, engine undercover strake and carbon rear spoiler increase downforce, lowering the center of gravity and generating an additional 100kg*1 (at 300km/h) compared to the freshly updated 2014 Nissan GT-R model. The car's aerodynamic characteristics are tuned to ensure the downforce is equally spread front to rear at all speeds for progressive handling characteristics. A widened front bumper configuration and elongated yet tapered rear bumper design keep the drag to Cd 0.26, same with that of 2014 Nissan GT-R.

The Nissan GT-R Nismo will be available in four body colors: Brilliant White Pearl, Meteor Flake Pearl Black and Ultimate Metallic Silver. And unique to the GT-R Nismo model, a Dark Matte Grey*3accentuates the car's imposing exterior muscularity.

The GT-R Nismo's black 6-spoke wheels are inspired by Nissan's GT-R race car which races in the GT500 class in SUPER GT.
3. Interior
The Nissan GT-R Nismo cockpit inspires driver confidence through both its craftsmanship and optimized driving position.

Ergonomically sculpted carbon-fiber-backed reclining RECARO seats comfortably, yet firmly, support the driver and front-seat passenger.

Nismo racers influenced the design of the steering wheel which is dressed in Alcantara®, with three spokes, red center mark and red stitching to give the best combination of grip, feedback and comfort.

The combi meter has carbon-like finish, and tachometer features a red design. The meter hood is also dressed with Alcantara®.

Interior trim features include discreet red stitching on the seats, center console, door trim and steering wheel.
Source: Nissan