2014 Mercedes-Benz GLA - Efficiency and Practicality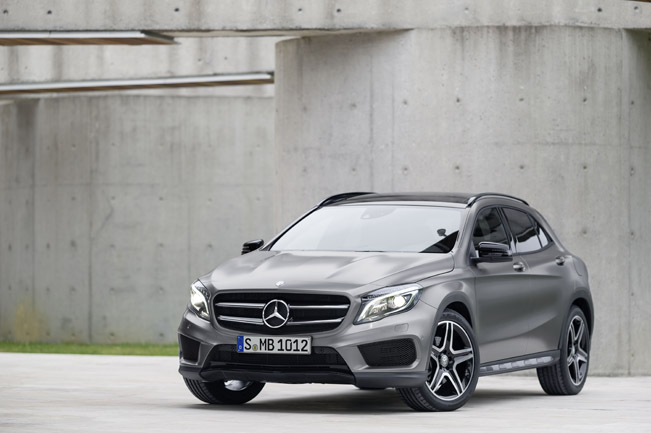 Mercedes-Benz has officially unveiled the 2014 GLA, which is expected to make its public debut at the Frankfurt Motor Show, next month. The compact crossover boasts progressive design, versatility and impressive off-road capability. It aims to set new benchmarks in efficiency as it mixes practicality with surefooted 4MATIC capability.
The first Mercedes-Benz in the fast-growing compact SUV segment is highly manoeuvrable around town (length x width x height 4,417 x 1,804 x 1,494 millimetres), lively on country roads and dynamic and efficient on the motorway (Cd figure 0.29). The high-quality appointments, developed with much love for detail, and the flexible interior clearly position the GLA as a compact premium SUV.
The GLA is the first Mercedes-Benz SUV to be optionally available with the new-generation permanent all-wheel drive system 4MATIC, with fully variable torque distribution in the UK.
The engine range includes a 1.6 liter turbocharged petrol with 156HP (115 kW) and 250Nm (185 lb-ft) in GLA 200, the GLA 250 model is powered by a 2.0 liter turbocharged petrol with 211HP (155 kW) and 350Nm (259 lb-ft). The diesel range includes GLA 200 CDI with 2.1 liter four-cylinder engine with 136HP (100 kW) and 300Nm (222 lb-ft) and GLA 220 CDI with the same engine, but boosted to 170HP (125 kW) and 350Nm (259 lb-ft) of torque.
The GLA 250 equipped with 4MATIC will do 0-62 mph (0-100 km/h) in 6.5 seconds before reaching a top speed of 145 mph (233 km/h). The optional all-wheel drive arrangement is also offered for the GLA 220 CDI and both models benefit from a Downhill Speed Regulation (DSR) system and an off-road transmission mode.
UK specification and pricing are still to be confirmed.
| | | | | |
| --- | --- | --- | --- | --- |
| Model | GLA 200 | GLA 250/ GLA 250 4MATIC | GLA 200 CDI | GLA 220 CDI/ GLA 220 CDI 4MATIC |
| Number of cylinders/arrangement | 4 in-line | 4 in-line | 4 in-line | 4 in-line |
| Displacement (cc) | 1,595 | 1,991 | 2,143 | 2,143 |
| Rated output (hp at rpm) | 156 at 5300 | 211 at 5500 | 136 at 3600-4000 | 170 at 3600-4000 |
| Rated torque (Nm at rpm) | 250 at 1250-4000 | 350 at 1200-4000 | 300 at 1400-4000 | 350 at 1600-3200 |
Source: Mercedes-Benz