2014 Mercedes-Benz GLA [teaser video]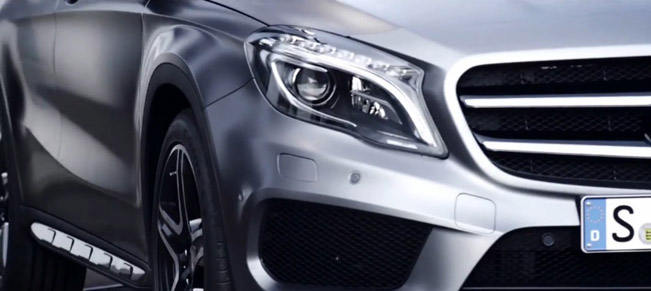 Mercedes-Benz has released published a teaser video on Youtube with the 2014 GLA cross-over, which is expected to make its official debut at the 2013 Frankfurt Motor Show in September.
The Concept model was presented earlier this year at the 2013 Auto Shanghai and the manufacturer is going to use a lot of the concepts features in the production model. However, some of the highlights are a bit toned down. The GLA is a compact crossover that will have a two-bar front grille, the new Mercedes-Benz's headlight design, bulging fenders and a tailgate-mounted spoiler.
The engine range will be borrowed from B-Class: a 1.6 liter petrol with 122HP (90 kW), a 1.8 liter diesel with 136HP (100 kW) and a 1.6 liter turbocharged petrol with 156HP (115 kW). Of course, we also expect a GLA 45 AMG powered by world's most powerful four-cylinder engine 2.0 liter turbocharged petrol with 360HP (265 kW).
Source: Mercedes-Benz