Audi, BMW and Mercedes-Benz and Their Attractive Sub-brands
It has become common place over the decades for manufacturers to entertain a certain sector of the market with high performance versions of their most popular models - or even one-off specials - and while most are well received, some marques stand out among the rest.
The big three German manufacturers of Audi, BMW and Mercedes-Benz all arguably have the most attractive sub-brands – RS, M and AMG - appeasing those with a need for speed, great handling and a far more visceral experience from that of their standard models. Examples from the RS, M and AMG departments bring immediate appeal, thanks to their enhanced appearances, exciting aural offerings and their ability to reach the horizon in mere seconds.
A massive advantage for the trio's more sporting models is the fact that their donor cars were never sluggish or of low quality to start with and on their own offer premium finishes and an overall sorted package, a combination that is even still evident in the second-hand market today.
To celebrate these manufacturers' ability to bring such majestic and exhilarating models to the fore, here's a run down of possibly the best examples from each sub brand. Don't agree with the choices? Let us know your favourite RS, M and AMG models in the comments below.
Audi RS2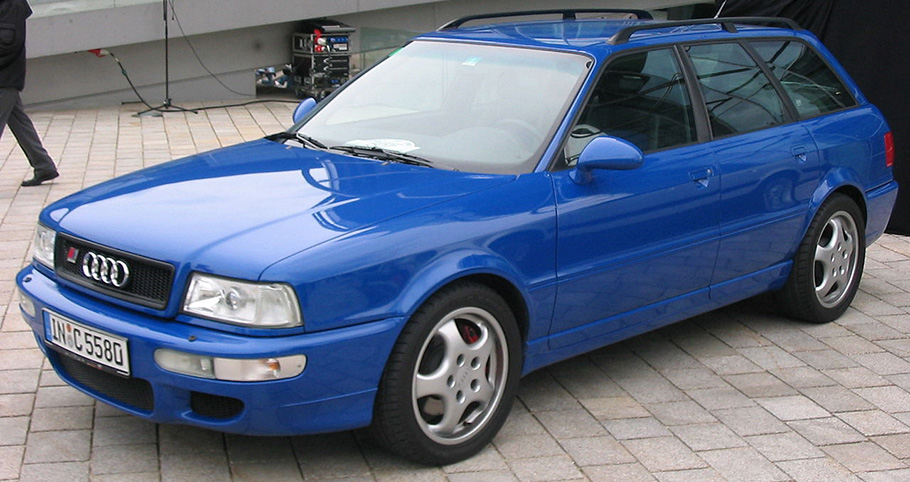 For Audi, the RS2 was genesis for the RS program and a project that was to become one of its most iconic cars in the line-up. The RS2 was a joint venture between Audi and compatriots Porsche, resulting in one of the most technologically advanced cars built with an Audi badge on the front at that time.
The compact estate car was built on Audi's 80 Avant structure, but saw many additions and new parts to make it a superbly fast car; even by today's numbers, the RS2 could give a Porsche Cayman a run for its money. Under the bonnet was a much modified version of Audi's 2.2-litre inline five-cylinder turbocharged powertrain, serving up 311bhp; good enough for a 0-62mph sprint of just 4.8sec. One of the most famous stats for the RS2 was that its 0-30mph sprint time (1.5sec) was faster than that of a McLaren F1, as found out by Autocar.
This power was put through a highly effective Quattro four-wheel-drive system that led that way for future RS models, especially its successor the RS4. Admittedly, the RS2 wasn't the best handling car in the world, thanks to the occasionally violent turbo and fairly steep understeer. However, it had a bucket load of character and to this day is an incredibly difficult car to get hold of, with the odd example with over 100,000 miles on the clock selling for around the £20,000 mark.
BMW M3 CSL

Now to BMW's Motorsport division and a car that many revere as one of the all-time best M3 variants, the CSL. Standing for Coupe Sport Lightweight, the CSL was a raw and highly focused version of the E46 M3 and since its short production time in 2004 has become a modern classic.
An element that ensured the CSL would differ from the 'standard' M3 was its loss of 110kg, with many weight-saving applications helping to accomplish this diet, some of which coming straight from its then Formula 1 team. Firstly, a large proportion of the car's sound deadening was removed, before its electrical architecture was stripped, meaning creature comforts such as electric seats and satellite navigation were taken out, while air con was not standard but could be fitted at no extra cost.
Add to this a carbon roof to bring down the centre of gravity, an extra 17bhp in that straight-six engine and a viciously fast semi-auto SMG gearbox, you've got yourself a fairly aggressive package; even more so when you press that all-important 'M' button on the steering wheel. A 50:50 weight distribution and this loss of weight also resulted in incredibly accurate handling dynamics, while a tighter steering ratio also did its part to increase the car's responsive attitude.
Mercedes-Benz CLK DTM AMG
When manufacturers create road-going versions of their race cars, you know you're likely to be in for a treat, and with Mercedes CLK DTM AMG it was no different. Here was a fettled version of the CLK55 AMG coupled with inspiration from the German Touring Car championship, with just 100 coupes and 80 cabriolet versions released.
Mercedes used its supercharged 5.4-litre naturally-aspirated V8 for the CLK DTM AMG and upped the power to a massive 582bhp, good for a 0-62mph run of a mere 3.8sec. To give it a more aggressive stance, the track was widened at both the front and rear, while special tyres and suspension modifications were required to keep the car from destroying itself and allow it to take it to a 200mph top speed.
The CLK DTM AMG has since become a bit of a 'Unicorn' car and a great investment, with prices commanding various premiums for low mileage examples over the original £180,000 asking price. It was even a car that got many racing drivers' attention; the likes of Jenson Button, Kimi Raikkonen and Mikka Hakkinen all at some point owned examples of the car, including the cabriolet.
Image Source: Wikipedia