Audi S3 Limousine By SR Performance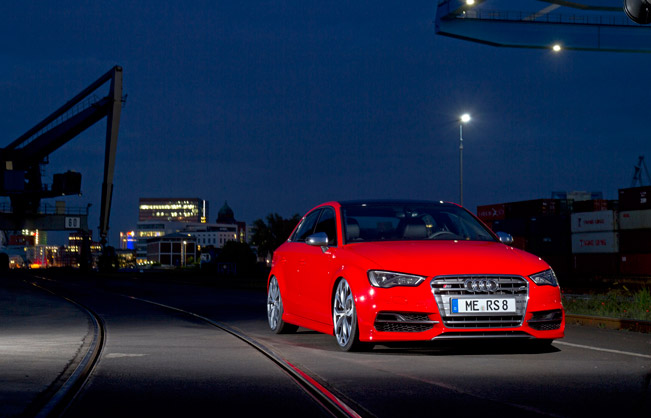 SR Performance Audi S3 Limousine is a low attitude racer. It features a striking lowering modification through a special KW coilover kit. In addition, the kit also includes an adjustable suspension strut bearing on the front axle. For this massive lowering SR Performance just had to add huge wheels, that will harmonize with vehicles new appearance.
The 8.5x20-inch forged wheels in 10-spoke V-design were initially created for S3 bigger brother A6 4G, but they also fit perfectly here as well. Vredestein Ultrac Sessanta tires of the dimension 225/30R20 were then matched with the wheels. What is more, 5-millimeter spacing rings were additionally applied for the horizontal fitting.
Another exterior modification done here is the wrapping don over the roof which now shines in glittering black. The effect of the foiling is that the the hard "edge" was eliminated. SR Performance continued with modififactions regarding the performance of this Audi.
Precisely, the 2.0-liter turbo engine was given an MTM M-Cantronic performance boost and a BN pipes-downpipe and a 200-cell HJS catalyzer. The pipe of the exhaust system measures 85/76 millimeter in diameter.
The result is that the unit generates 380 horsepower (280 kW) and a maximum torque of 470 Nm (347 lb-ft). Just for a comparison, the production S3 delivers 300 hp (220 kW) and 380 Nm (280 lb-ft). What is left to mention is that SR Performance S3 accelerates from 0 to 100 km/h in only 4.6 seconds.
Source: SR Performance