Bugatti Veyron Grand Sport Vitesse World Record Car Edition - 408.84 km/h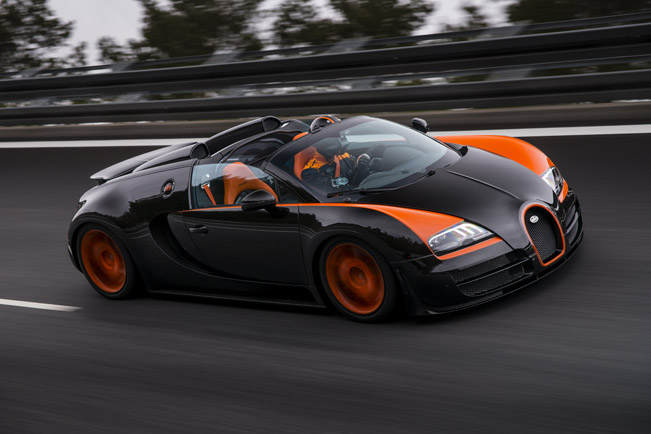 Bugatti will introduce the Veyron Grand Sport Vitesse World Record Car Edition at the Shanghai Motor Show. The special edition hyper-car will be presented in order to celebrate that the Grand Sport Vitesse has officially become the fastest convertible in the world.
During the high-speed test, the Grand Sport Vitesse managed to hit a top speed of 408.84 km/h (254.04 mph) at Volkswagen's Ehra-Lessien proving grounds.
The Grand Sport Vitesse is powered by the famous 8.0 liter W16 quad-turbo engine with 1200HP (883 kW) and 1500Nm (1106 lb-ft) of torque. The engine is paired with a 7-speed DSG gearbox. It sends all that torque to an AWD system. 0-100 km/h in 2.6 seconds and 0-200 km/h in 7.1 seconds, 0-300 km/h in 16 seconds. ¼ mile is covered in 10.0 seconds flat and 1 mile in just 25.0 seconds.
Other interesting disciplines like 0-100-0 km/h take 5.9 seconds and 0-200-0 take 12.9 seconds. The interesting 0-300-0, which is brutal for the brakes take 23.9 seconds.
The official fuel consumption is 23.1 l / 100 km on average cycle and the city cycle is around 37.2 l / 100 km.
The overall weight of the vehicle is 1990 kg and the fuel tank can take up to 100 litres of fuel or around 250 km range in city.
The suspension features three different settings: Standard, Handling and Top Speed.
The brake system includes 400 mm front discs with 8 piston calipers and 380 mm discs at the rear with 6 piston calipers.
Only eight Veyron Grand Sport Vitesse World Record Car Edition will be produced – price €1,990,000.
Source: Bugatti