2015 Chevrolet Silverado HD and GMC Sierra HD Revealed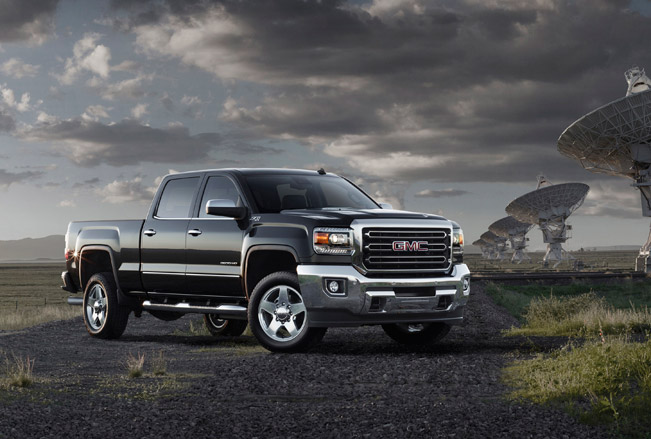 Chevrolet and GMC have just revealed their brand new MY2015 models of Silverado HD and Sierra HD full-size pickups. The vehicles will sport better capabilities across the range including the highest payload of 7,374 pounds as well as the highest conventional trailering rating of 19,600 pounds.
2015 Chevrolet Silverado HDs are definitely made stronger than before. Their new exterior communicates strength and capability, but at the same time they also include enhanced aerodynamics for improved efficiency and reduced wind noise.
Updates for this model include all-new exterior styling with enhanced cooling air flow, which enables Silverado's 6.6-liter Duramax turbo diesel and 6.0-liter Vortec V-8 to better develop their full power. In addition, there is added an integrated cruise control, Auto Grade Braking and Diesel Exhaust Braking, all helping to make tough towing easier.
Furthermore, the 6.0L bi-fuel V-8 engine can run on either gasoline or compressed natural gas, and will be available on regular-cab, crew-cab and new double-cab Silverado 2500 and 3500 models.
What is also new here is the Standard StabiliTrak with Trailer Sway Control, which comes as a standard on all models. The new cabs and interiors on the other hand, deliver enhanced space and comfort, with extensive storage space.
Of course, the Silverado is equipped with the Chevrolet MyLink technology, which will deliver best connectivity when needed. At last, the 6.5- and 8-foot boxes with standard CornerStep bumpers, EZ Lift and Lower tailgates, and other features are what make the cargo handling easier.
Next, the 2015 GMC Sierra HDs will be available at dealerships in the first quarter of 2014. The vehicle is designed to deliver the best capability with enhanced comfort and smarter technologies. In the case of Sierra HD, Gas and Duramax diesel powertrains are offered, including a bi-fuel option that pairs the gas engine with a compressed natural gas system.
The exterior and interior have bold styling and include more comfortable and technology-infused interior, including new double cab and revised crew cab body styles. For instance, there are larger rear doors, new seat designs, and two inches of additional legroom on crew cabs.
Throughout the interior there are also placed more storage compartments, more plug-ins for electronic devices and the latest-generation GMC IntelliLink infotainment system, which features eight-inch-diagonal color touch screen.
Moreover, other new and enhanced features for the 2015 Sierra HD lineup include CornerStep rear bumper, EZ Lift and Lower tailgate and standard upper tie-downs. They make cargo handling easier.
Here is featured also as a standard the StabiliTrak with Trailer Sway Control. In addition, there is also an integrated cruise control, auto grade braking and diesel exhaust braking. The improved cooling airflow enables the Duramax turbo diesel and 6.0L gas engine to better maintain full power, even under heavy loads and high ambient temperatures. Here also is featured the IntelliLink infotainment system, which will offer to occupants the perfect connection.
2015 Chevrolet Silverado HD Specifications:
Overview
| | |
| --- | --- |
| Models: | Chevrolet Silverado 2500HD and 3500HD |
| Construction: | body on frame |
| Manufacturing locations: | Fort Wayne, Ind., and Flint, Mich. |
Powertrains
| | | |
| --- | --- | --- |
| | 6.0L VVT V-8 – gas/E85 or bi-fuel | Duramax 6.6L turbo-diesel |
| Engine type: | OHV gasoline or bi-fuel V-8 with variable valve timing | OHV turbo-diesel with Piezo-actuated fuel system and variable-vane turbo |
| Horsepower (hp / kW @ rpm): | 360 / 268 @ 5400 (2500HD) 322 / 240 @ 4400 (3500HD) | 397 / 296 @ 3000 |
| Torque (lb-ft / Nm @ rpm): | 380 / 515 @ 4200 (2500HD & 3500 HD) | 765 / 1037 @ 1600 |
| Transmission: | Hydra-Matic 6L90 6-speed auto. | Allison 1000 6-speed auto. |
| Final drive ratio: | 4.10 or 3.73 | 3.73 |
Chassis / Suspension & Brakes
| | |
| --- | --- |
| Front: | long- and short-arm independent front torsion bar suspension |
| Rear: | semi-elliptic two-stage multi-leaf spring |
| Steering type: | integral power-assisted recirculating ball |
| Brakes: | power-assisted brake-apply, four-wheel disc, four-wheel ABS |
| Wheel and tire size: | 17 x 7.5-in. / LT245/75R17  or LT265/70R17 18 x 8.0-in. / LT265/70R18 20 x 8.5-in. / LT265/60R20 |
Exterior (2500HD)
| | | | | | |
| --- | --- | --- | --- | --- | --- |
| | Regular Cab Long Box | Double Cab Standard Box | Double Cab Long Box | Crew Cab Standard Box | Crew Cab Long Box |
| Wheelbase     (in / mm): | 133.5 / 3393 | 144.1 / 3662 | 158.1 / 4017 | 153.7 / 3904 | 167.6 / 4259 |
| Overall length (in / mm): | 224.3 / 5699 | 230 / 5841 | 248.8 / 6321 | 239.5 / 6083 | 258.4 / 6563 |
| Overall width   (in / mm): | 80.1 / 2035 | 80.5 / 2045 | 80.5 / 2045 | 80.5 / 2045 | 80.5 / 2045 |
| Overall height – 2WD: (in / mm): | 77.8 / 1976 | 78.1 / 1984 | 77.9 / 1978 | 78.3 / 1988 | 78 / 1981 |
| Overall height – 4WD: (in / mm): | 77.7 / 1975 | 78 / 1983 | 77.8 / 1977 | 78.3 / 1987 | 79.9 / 1980 |
Interior
| | | | |
| --- | --- | --- | --- |
| | Regular Cab | Double Cab | Crew Cab |
| Headroom (in / mm): | 42.8 / 1087 | front: 42.8 / 1087 rear: 38.7 / 982 | front: 42.8 / 1087 rear: 40.5 / 1029 |
| Legroom (in / mm): | 45.3 / 1150 | front: 45.2 / 1150 rear: 34.6 / 880 | front: 45.3 / 1150 rear: 40.9 / 1040 |
Capacities
| | | |
| --- | --- | --- |
| | 2500HD | 3500HD |
| Max payload (lb / kg): | 4306 / 1953 | 7374 / 3508 |
| Max conventional trailing (lb / kg): | 14500 / 6577 | 19600 / 8890 |
| Max 5th wheel trailering (lb / kg): | 17900 / 8119 | 23200 / 10523 |
2015 GMC Sierra HD Specifications:
Overview
| | |
| --- | --- |
| Models: | GMC Sierra 2500HD and 2500HD Denali; 3500HD and 3500HD Denali |
| Construction: | body on frame |
| Manufacturing locations: | Fort Wayne, Ind., and Flint, Mich. |
Powertrains
| | | |
| --- | --- | --- |
| | 6.0L VVT V-8 – gas/E85 or bi-fuel | Duramax 6.6L turbo-diesel |
| Engine type: | OHV gasoline or bi-fuel V-8 with variable valve timing | OHV turbo-diesel with Piezo-actuated fuel system and variable-vane turbo |
| Horsepower (hp / kW @ rpm): | 360 / 268 @ 5400 (2500HD) 322 / 240 @ 4400 (3500HD) | 397 / 296 @ 3000 |
| Torque (lb-ft / Nm @ rpm): | 380 / 515 @ 4200 (2500HD & 3500 HD) | 765 / 1037 @ 1600 |
| Transmission: | Hydra-Matic 6L90 6-speed auto. | Allison 1000 6-speed auto. |
| Final drive ratio: | 4.10 or 3.73 | 3.73 |
Chassis / Suspension & Brakes
| | |
| --- | --- |
| Front: | long- and short-arm independent front torsion bar suspension |
| Rear: | semi-elliptic two-stage multi-leaf spring |
| Steering type: | integral power-assisted recirculating ball |
| Brakes: | power-assisted brake-apply, four-wheel disc, four-wheel ABS |
| Wheel and tire size: | 17 x 7.5-in. / LT245/75R17  or LT265/70R17 18 x 8.0-in. / LT265/70R18 20 x 8.5-in. / LT265/60R20 |
Exterior (2500HD)
| | | | | | |
| --- | --- | --- | --- | --- | --- |
| | Regular Cab Long Box | Double Cab Standard Box | Double Cab Long Box | Crew Cab Standard Box | Crew Cab Long Box |
| Wheelbase     (in / mm): | 133.5 / 3393 | 144.1 / 3662 | 158.1 / 4017 | 153.7 / 3904 | 167.6 / 4259 |
| Overall length (in / mm): | 224.3 / 5699 | 230 / 5841 | 248.8 / 6321 | 239.5 / 6083 | 258.4 / 6563 |
| Overall width   (in / mm): | 80.1 / 2035 | 80.5 / 2045 | 80.5 / 2045 | 80.5 / 2045 | 80.5 / 2045 |
| Overall height – 2WD: (in / mm): | 77.8 / 1976 | 78.1 / 1984 | 77.9 / 1978 | 78.3 / 1988 | 78 / 1981 |
| Overall height – 4WD: (in / mm): | 77.7 / 1975 | 78 / 1983 | 77.8 / 1977 | 78.3 / 1987 | 79.9 / 1980 |
Interior
| | | | |
| --- | --- | --- | --- |
| | Regular Cab | Double Cab | Crew Cab |
| Headroom (in / mm): | 42.8 / 1087 | front: 42.8 / 1087 rear: 38.7 / 982 | front: 42.8 / 1087 rear: 40.5 / 1029 |
| Legroom (in / mm): | 45.3 / 1150 | front: 45.2 / 1150 rear: 34.6 / 880 | front: 45.3 / 1150 rear: 40.9 / 1040 |
Capacities
| | | |
| --- | --- | --- |
| | 2500HD | 3500HD |
| Max payload (lb / kg): | 4306 / 1953 | 7374 / 3508 |
| Max conventional trailing (lb / kg): | 14500 / 6577 | 19600 / 8890 |
| Max 5th wheel trailering (lb / kg): | 17900 / 8119 | 23200 / 10523 |
Source: GMC