Chrysler 300 Ruyi Design Concept at 2012 Beijing
Here's a break of the pattern – after the dragon encrusted Ferrari 458 and the "Dragon" Wrangler we finally arrive to a Chinese design concept that does not draw inspiration from the dragon breathing mythical creature. It's the Chrysler 300 Ruyi based on the standard 300C which is also there at the stand. There's even a Grand Voyager MPV present, all part of the festive return of the Chrysler company to the Chinese market.
Ruyi means "as one wishes" and is usually represented by an object akin to a scepter. It's used to signify prosperity as it is usually crafted beautifully from high quality materials. So does the 300 Ruyi is anything like that? Well, the first thing you notice that it's black... sorry, "Maximum Steel". Bits like the door handles, grille surround and lower grille tracer are in dark chrome. All of that suggests a very upscale and urban feel to it according to Chrysler but to us it just looks kind of scary. Especially with those tinted windows. Other highlights include the grille itself which is riddled with dark chrome throats, the Chinise character at the back end which reads "ruyi". To round things up, the Ruyi's designers have fitted 22-inch 10-spoke concept alloy wheels in, again, dark chrome, with a design reminiscent of a ruyi scepter (an S shape type of rod).
Inside, the dark chrome odyssey continues as we notice the outer dash vents, navigation screen and center dash vent surrounds, gauge rings, steering wheel rim and door handles. The center console, upper floor panels and flanking dashboard are all finished in a brushed patterned trim.
Light, creamy leather wraps around the seats with suede inserts at the center and side bolsters. As a touch of aesthetics, the piping is black. On the head rests, one can see the actual evidence of ruyi inspiration – an embossing in a cloud form that again bares an S-shaped base.
Power, produced by the "Engine of the Year" 3.6-liter Pentastar V6 unit, will go trough Chrysler's ZF 8HP45 eight-speed automatic transmission. It's the same setup which will be used in the standard 300C Luxury Series bound to appear in all Chinese dealrships. It's most fuel-efficient and an excellent choice when it comes to value for money.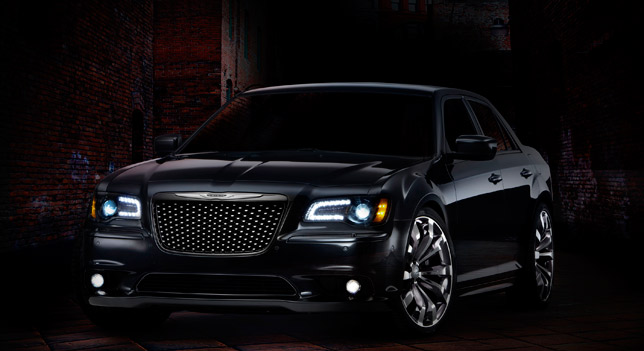 Source: Chrysler