Chrysler 300C UK Price
Although already familiar in the US, the Chrysler 300C goes on sale in the UK this June while the prices are already out - £35,995 ($58,211) for a base one. For now, a sole diesel engine will be available in both of the planned trims.
The 300C aims at the top-line luxury segment, where it will hopefully bring some diversity:
"Production of this eagerly-awaited new executive saloon is well underway and I am delighted to be able to announce pricing," says Nigel Land, brand director, Jeep Chrysler UK. "The 300C promises distinction and innovation, as the car sets a new course for the Chrysler brand in the UK."
Typical European sensibility can be found under the hood – A V6 diesel with a displacement of 3.0-liters and a power output of 236 bhp and 540Nm of torque. With that in mind, we get 39.8 mpg of combined fuel economy. The CO2 figure is also on the lowish end with 185-195 g/km depending on wheel size.
The more American side of the Chrysler can be seen...well... on it's sides. The profile of the new 300C is still reminiscent of its predecessor with muscular and edgy lines. At the same time, the sunroof and the touchscreen display inside are as big as an airfield. Cabin quietness has also been put on high priority.
Even at the entry-level Limited version, safety plays an important role – ESC, LED daytime running lights, hill start assist, active head restraints, and the only place that doesn't hide an airbag is the trunk. Other treats include the heated seats (all of them), the load leveling suspension and the height control.
The 300C Executive is the better trim from the two. Actually, it's the one more equipped. At the price of £39,995 ($64,679), you additionally get adaptive cruise control, blind spot monitoring system, forward collision warning, keyless entry, powered rear sunshade, and heated and ventilated Nappa leather seats.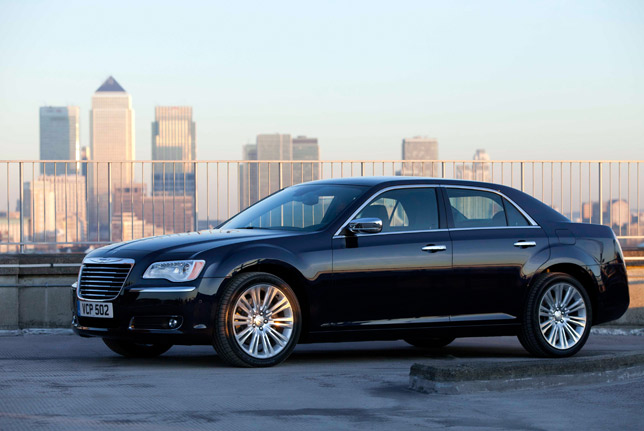 Source: Chrysler