Citroen Berlingo Electrique - 100% Electric Van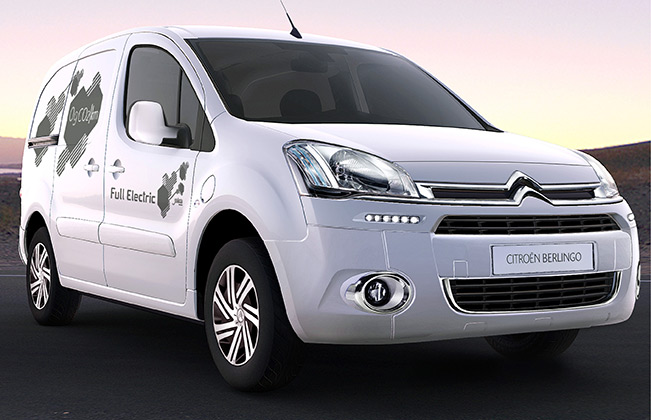 Citroen has announced the all-new Berlingo Electrique van. It will makes its official debut at the Commercial Vehicle Show (NEC, 9-11 April).
Citroen's CV Show stand will also be the launch platform for a number of other new LCV products, including the new Dispatch L1H1 HDi 125 6-seat Crew Van and Stop & Start equipped Relay vans. In addition, Citroen will be continuing its "Citroen Vans - Business Class" theme, with Citroën Contract Motoring personnel providing instant contract hire and other business-friendly finance quotations to the show's visitors.
The new, well equipped Berlingo Electrique incorporates the latest electric vehicle technology. The electric motor is positioned under the bonnet and the lithium-ion battery pack is located underneath the vehicle's load deck. This means the load compartment of up to 3.7m3and payload of 636kg is equivalent to that of a similar diesel-powered Berlingo van.
With a total battery capacity of 22.5kWh, the Berlingo Electrique has a range of up to 106 miles. Using a domestic socket, the vehicle can be fully charged in around 8 ½ hours or, alternatively, it can be charged to 80% of capacity in only 35 minutes using a specific 380V three-phase terminal in quick-charge mode.
The Berlingo Electrique's permanent magnet synchronous electric motor produces 49kW (67hp) and has a peak torque rating of 200Nm. The motor drives the front wheels through a speed reducer and a single-ratio gearbox.
Full UK specs and pricing will be announced closer to the CV Show, but among the Berlingo Electrique's many features are:
Eco-driving information, including an energy consumption/regeneration indicator, an instantaneous energy consumption gauge and an auxiliaries consumption gauge, which displays data on heating, air conditioning and other secondary power usage
A deceleration and braking energy recovery system
An electric heating system with an eco-mode to limit energy consumption
Hill start assist coupled to the ESP system
Source: Citroen