Citroen C4 Cactus Chrome Edition Shown at Q Awards 25th Anniversary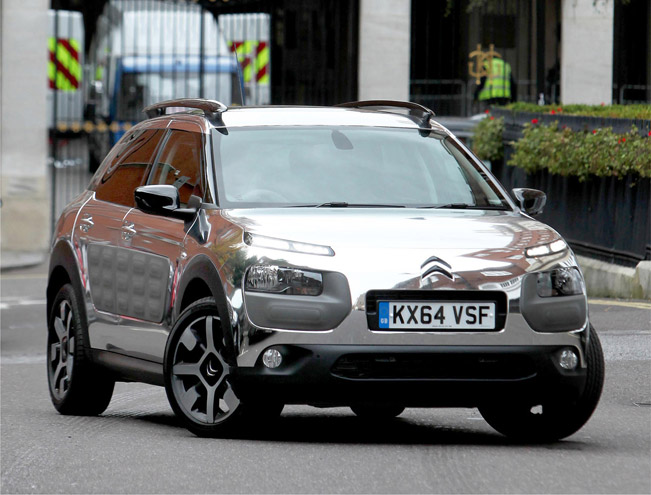 Citroen is releasing a one-off C4 Cactus Chrome Edition in order to celebrate the 25th anniversary of the Q Awards. This signifies that the company has continued the sponsorship of the event for another year, thus remaining in-tune with the UK music industry. The prestigious Q Awards took place yesterday (22 October) at the Grosvenor House Hotel and was hosted by Absolute Radio's Christian O'Connell. In addition, Citroen revealed that it will sponsor this years 'Best Solo Artist' category winner - Ed Sheeran.
A fleet of chauffeur-driven Grand C4 Picasso and C4 Cactus models were there to transport the celebrity guests to the venue. The star in company's range of vehicles at the event was the one-off chrome-finished C4 Cactus, which also appeared on the red carpet.
It immediately gathered glances and was the transport-of-choice for the French composer, performer and music producer Jean-Michel Jarre. He also got an award – the coveted Q Innovation In Sound Award.
Citroen C4 Cactus Chrome Edition includes the special Airbump feature. It does away with dents and scratches in real life and it is found on the front and rear bumpers and the sides. Airbump provides a type of buffer zone which protects the actual body. The car is also equipped with an array of driving aids such as the park assist, a reversing camera, hill-start assist, to name a few.
The C4 Cactus is powered by Citroen's latest-generation engines. These modern and efficient engines, PureTech petrol and BlueHDi diesel with Stop & Start, need very little fuel to run. The gasoline powered are the naturally aspirated three-cylinder PureTech VTi 82 engine with capacity of 1.2l and the turbocharged PureTech e-THP 110 engine with a central direct-injection turbocharger and dual VVT.
On the diesel side is the BlueHDi 100 unit, which is an example of another step towards cleaner diesel, cutting CO₂ emissions to a record low 82g/km and keeping fuel consumption on a tight rein up to 91.1mpg on a combined cycle.
Source: Citroen