Detroit Eelectric SP:01 - Specifications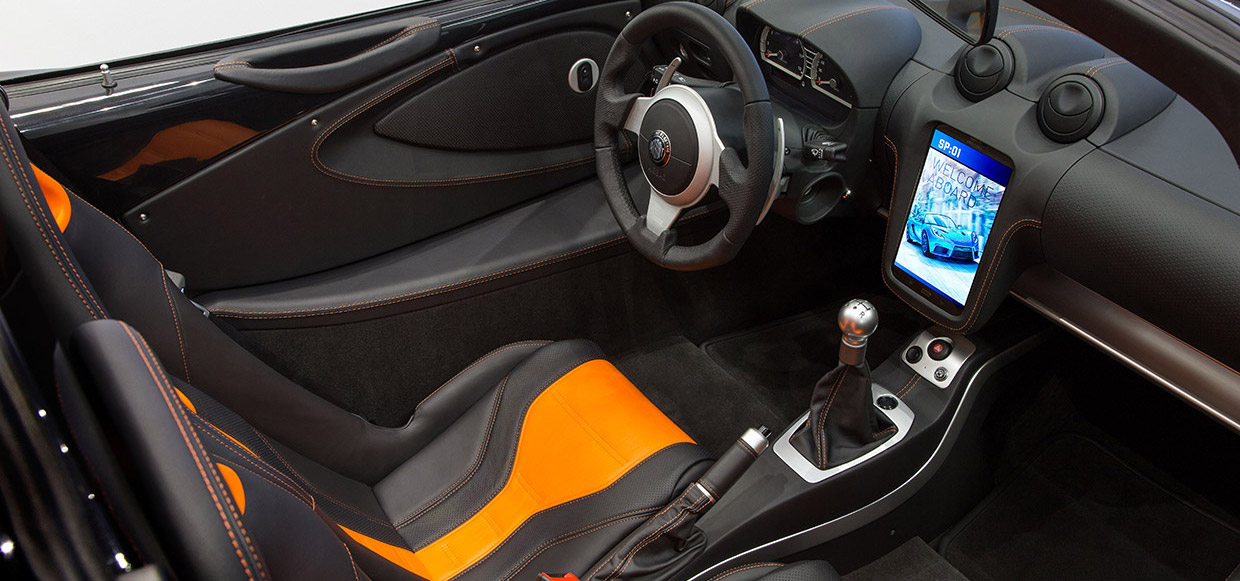 Detroit Electric has finally unveiled the exterior and interior designs for the SP:01 pure-electric sports car. Pre-production prototype models are going through some extensive testing at Detroit Electric's production facility in Leamington Spa, UK, ahead of the official production in early 2015.
Power-wise, the lightweight electric car is fitted with an electric motor which is able to produce 285 HP (210 kW). There are also carbon fiber body panels and manual transmission that comes as standard. An optional single-speed and twin-speed automatic transmission are available as well. The two-seater sports car promises to deliver spectacular acceleration, reaching 0 to 60 mph in just 3.7 seconds (0-100 km/h in 3.9 seconds) before boosting a mind-blowing top speed of 155 mph (249 km/h).
Outside, the Detroit SP:01 has been altered in order to show off with an improved aerodynamic performance. Thus, some of the refined highlights include a new fastback configuration, a large sculptural rear wing and under-body diffuser. The last two features help reduce lift and improve handling when the driver decides to cut the air while driving at a higher speed. The sports car offers a Metallic paint options such as: Performance Black, Performance Blue, Performance Green, Performance Orange and Performance Silver, as well as 'Special White' and 'Special Red'. Clients can order customized paint colors too.
In order to craft out a plain and not so complicated cabin, the SP:01's center console has an incorporated 8.4-inch touchscreen tablet, that replaces the previous analogue dials and switches on the fascia. Other specifications include: Detroit Electric's SAMI (Smartphone Application Managed Infotainment) application with Android operating system, that provides access to different functions, like music player, HVAC (heating, ventilating and air conditioning), satellite navigation and vehicle systems status, such as battery charge, V2X (Vehicle-to-Grid and Vehicle-to-Home) etc.
There is also a choice of leather or Alcantara sports seats (black, with body-color accents), power electric windows, power central locking, ambient cabin lighting, embroidered floor mats and Bluetooth connectivity. Nevertheless, customers are given the opportunity to personalize their vehicle by choosing between colored leather seats (red, beige, tan and black) or two-tone leather seats (black with a choice of red, beige, blue, orange or grey), and optional leather trim for door panels, door sills and dashboard.
Source: Detroit-Electric