End Of Production For The Iconic Lamborghini Gallardo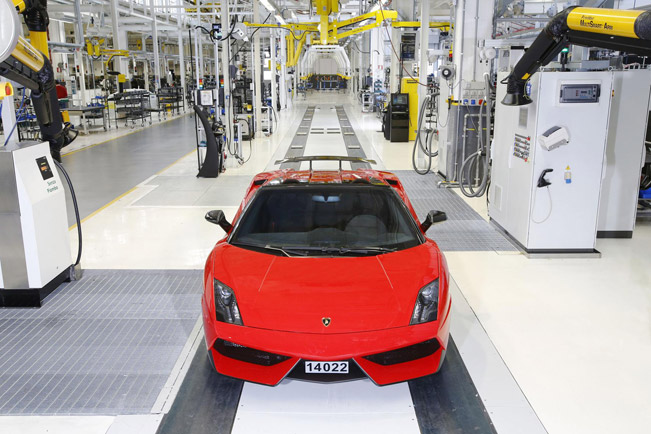 The very last Lamborghini Gallardo has left the production line in the historic factory buildings of Sant'Agata Bolognese. The final model is a Gallardo LP 570-4 Spyder Performante colored in the red paint finish Rosso Mars and which is already destined for a private collector.
In fact, the Gallardo has been produced with a total of 14,022 units which makes it the most successful super sports cars. It is literally an icon of Italian design. The first Gallardo model appeared ten years ago at Geneva Motor Show in order to mark company's 40th anniversary. The name of the Gallardo was inspired by the world of bullfighting. Gallardo was a bloodline of bulls known for its exceptional courage and undaunted nature.
Another interesting historical fact is that in the first four decades of the existence of Lamborghini, an average of just 250 vehicles were built per year. Since the appearance of Gallardo, the production grew to a whole new dimension with volumes of around 2,000 cars per year on average.
The first ever 2003 Gallardo mesmerized the public with its extreme design, phenomenal lightweight dynamics and outstanding quality, and also included amazing handling and safety provided by permanent all-wheel drive. Later in 2005, the Gallardo Spyder joined the lineup, followed by Gallardo Superleggera in 2007. The latter had reduced weight, thanks to the extensive utilization of carbon fiber components; it also delivered 530 hp (390 kw).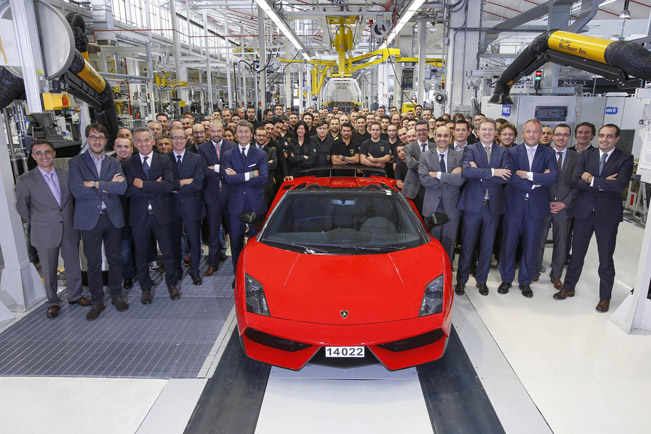 2008 marked the debut of the second generation Gallardo, that had a redesigned front and rear, a new engine with gasoline direct injection pushing out 560 hp (412 kW), and it carried the name LP 560-4. In the same year was the premiere of the second-generation Spyder as well.
Two years later was introduced the Gallardo LP 570-4 Superleggera with an increase in output to 570 hp (420 kW), as well as the open-top Gallardo LP 570-4 Spyder Performante. LP 550-2 Valentino Balboni limited edition and the LP 550-2 Spyder, featured a rearwheel drive and appealed to sports car fans.
The pinnacle of sporting performance among the total of 32 Gallardo variants was marked by the Super Trofeo Stradale and, finally - the Gallardo Squadra Corse, which boasts a dry weight of 1340 kilograms and has a power-toweight ratio of 2.35 kilograms per horsepower. This only means a breathtaking performance: the sportscar manages to cover the 0 to 100 km/h acceleration sprint in 3.4 seconds, on its way to a top speed of 320 km/h.
The Gallardo was sold in 45 countries. 2013 marks Automobili Lamborghini's 50th anniversary, and also the last ever built Gallardo with car number 14,022. Since the company has found in 1963, almost half of all 30,000 Lamborghinis are Gallardos.
Source: Lamborghini