Ferrari California T Unveiled Ahead Of Geneva Debut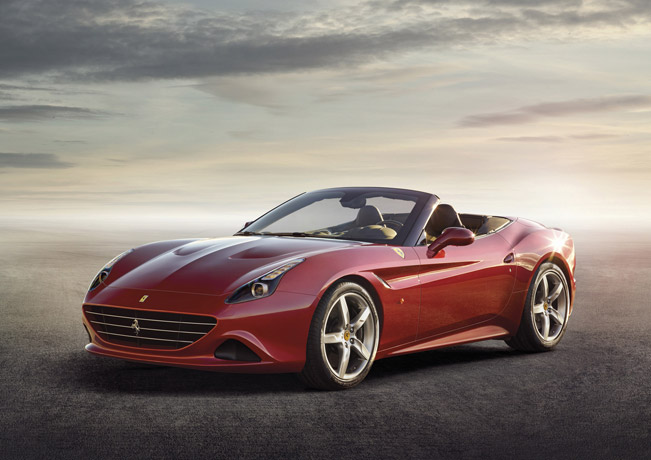 Ferrari California was introduced 64 years ago – in 1950. Now the exclusive Italian brand is releasing another successor of the model – the Ferrari California T, which exudes elegance, sportiness, versatility and exclusivity.
California T boasts a refined cabin and retractable hard top (RHT). But the most striking and a brand new feature here is the engine, which is 8-cylinder turbo one. As a matter of fact, Ferrari's engineers have designed an entirely new power unit, which produces not only excessive power, but also - the most exhilarating soundtrack any turbo has ever yielded.
Precisely, the engine features direct-injection, and is mounted very low in the chassis in a mid-front position. It delivers 560 hp (411 kW) at 7500 rpm, and a maximum torque of 755 Nm (557 lb-ft). These numbers speak only of exhilarating acceleration over the 0 to 100 km/h sprint, which the car covers in only 3.6 seconds.
Furthermore, the typical Ferrari engine sound was achieved through the utilization of special manufacturing techniques for essential components, such as the flat-plane crankshaft and the three-piece cast exhaust manifold and turbo housing. The result is a powerful, engaging sound during both the intake and exhaust phases, becoming even more potent as engine speed increases.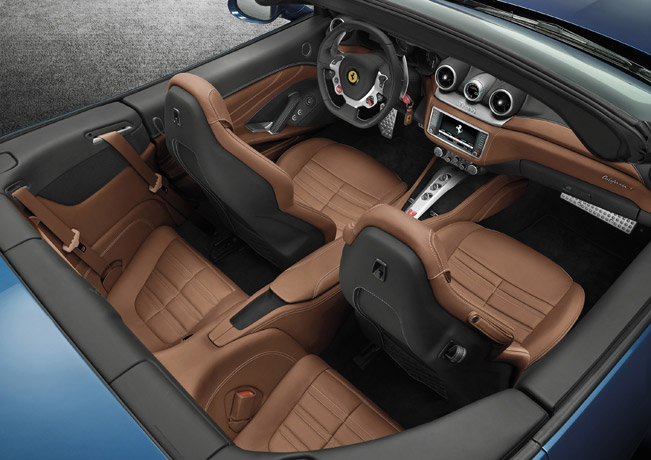 The sports dynamics are inherent to California T, due to the reduced steering wheel activity and improved steering response. There have been added new springs and latest-generation Magnaride dampers. When combined with body motion accelerometers, they reduce roll and pitch for more precise handling. California T is also equipped with F1-Trac traction control system as well as CCM3 carbon-ceramic braking system.
Of course, as a true Italian sports car, the model was given considerable attention in terms of design. The goal was to ensure that the California T has a new, individual personality. The shape of the California T's flanks was inspired by the 250 Testa Rossa's pontoon-fender styling; the front wing line of the model stretches back towards the rear, thus bringing an aerodynamic sleekness and movement to the sides. The rear on the other hand benefits from a new triple-fence diffuser. The model is currently being offered in two colors Rosso California and Blu California.
The cabin of the model was designed to be as ergonomic as possible. It sports a luxurious Frau semi-aniline leather trim, human-machine interface which encompasses Ferrari's steering wheel with integrated controls, Turbo Performance Engineer (TPE) positioned between the two air vents in the centre of the dash. California T also boasts new infotainment system with 6.5" screen featuring both touch-screen and conventional controls.
Ferrari California T is going to have an official premiere at the Geneva International Motor Show in March.
Source: Ferrari