Fiat 500 Café Racer Exudes Passion And Love [VIDEO]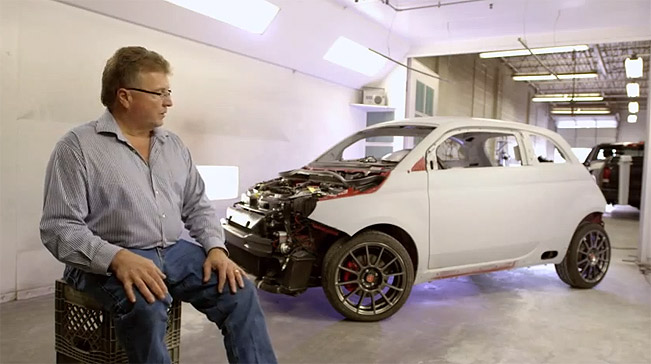 An interesting video I have just found over the web space is that of how Fiat 500 is getting ready and customized for 2012 SEMA Show. Interestingly enough, the so called "Cafe Racer" is being stripped down to the bare minimum for maximum performance and speed.
Details around the performance figures are still scarce, but we are eagerly waiting to know them around its official introduction. Furthermore, this particular video caught my attention, because a Fiat 500 is not we are used to see getting customized every day. Nevertheless, according to its designers, it is a really good vehicle to modify.
Another thing that provoked my curiosity is why it is called Café Racer. Well the truth here lies in history. There was a time when people have stripped down their motorcycles in order to get the weight down. The aim of course was to achieve a better performance.
Summed up in three words: attention, passion and love, is what can be seen throughout this car. Indeed, a great craftsmanship was needed to achieve the "Café Racer" effect and to bring forth the true personality of the Fiat.
Tires and wheels were changed, new exhaust system was added and basically the specialists have stripped down the car to the very essence of what one needs to drive. In addition, the seats were made lighter as well and have received a clean, sleek a lower profile. And this is how the Fiat 500 is capturing the imagination because it must be more than just a car, it must be a driving experience!
Video Source: YouTube