Fiat Shows The Interior Of Upcoming 2015 Fiat 500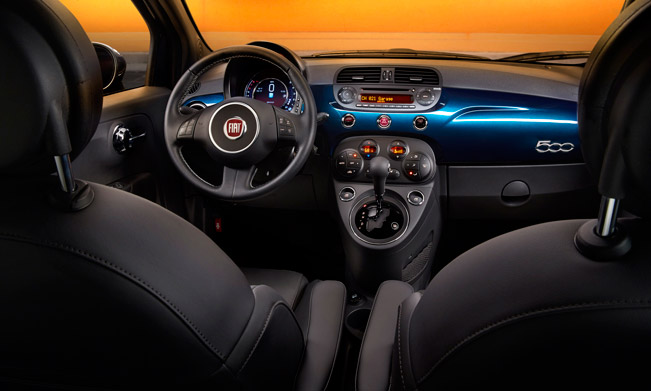 2015 Fiat 500 is going to make its world premiere at this year's New York International Auto Show. The brand has just shown the first official images of car's interior, which features numerous enhancements. They were made in order to increase driver convenience and ease of use. And instance is the featured advanced instrument panel with a 7-inch high-definition TFT cluster display.
The latter allows drivers to monitor important information like speed, fuel level, Eco index and trip information. On the main screen, one can see an image of the vehicle, which is surrounded by data such as distance traveled, gas mileage and range.
In addition, a parking screen helps drivers while moving in reverse if the vehicle is equipped with Rear Park Assist. Other screen options include a radio screen and a telephone screen. The Sport mode of the vehicle makes the TFT display "more aggressive". Of course – in terms of appearance.
What was also disclosed by Fiat is that the TFT display will be standard on the 2015 Fiat 500 Sport, Lounge, Turbo and Abarth models, and optional on the Pop. Furthermore, the other interior updates include a redesigned center console, which now sports cup holder design.
Scarce information on the exterior has been released yet. What we have understood is that the new Fiat 500 will be available in several new paint colors: Giallo Moderna Perla (modern pearl yellow), Laser Blu (bright metallic blue) and Billet Argento (billet silver).
At last, the Fiat 500 lineup, Fiat 500 Abarth, Abarth Cabrio and Turbo will add an available six-speed automatic transmission. 2015 Fiat 500 lineup will be available at dealerships in July this year.
Source: Fiat