Ford Focus ST Range at 2012 SEMA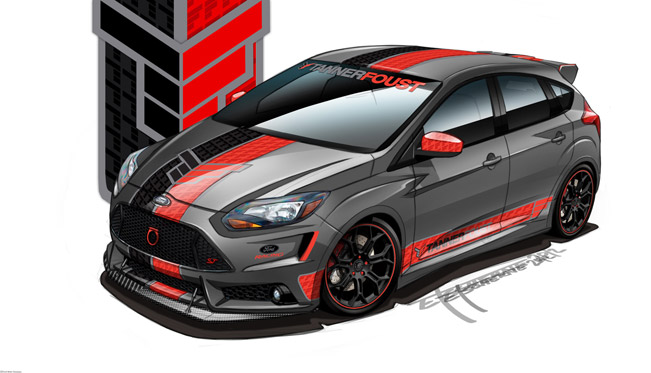 Ford is going to present five Focus ST concept cars, which are going to be showcased at 2012 SEMA Show later this month. Each of them is extremely exciting tuning with great characteristics needed to be reviewed little more in details.
The first concept is the 2013 Ford Focus ST Built by Tanner Foust Racing. This ST is equipped with 2.0L EcoBoost mated to a Six-Speed Manual Transmission. The car is "cool", because it is built by the world record holder and X-Games Gold medalist Tanner Foust.
His aim was to build a competent weekend track/canyon warrior, comfortable enough to endure a Southern California commute. This means that this model includes improved performance thanks to the increased air intake. The fully adjustable front and rear suspension adds flexibility for top performance regardless of the track. Custom body kit additions complete the aggressive, yet approachable look.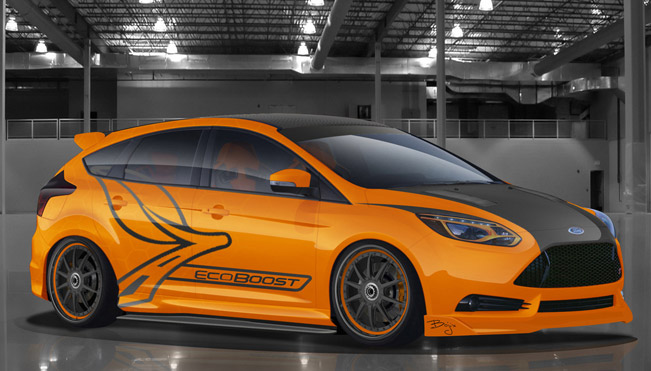 Next comes the 2013 Ford Focus ST built by Bojix Design which is again with the same engine and transmission as the previous. The car brings the European design cues to American soil, with its sleek, chic, tasteful and impactful look. Painted in iconic orange and equipped with expressive body kit bits, big brakes and coil-overs make the car oe-of-a-kind.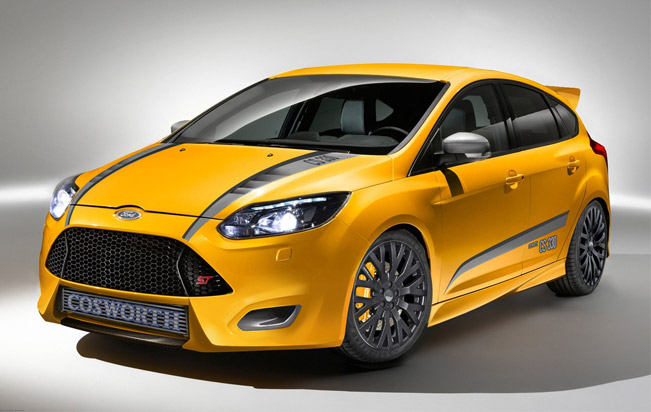 The third interpretation is the 2013 Ford Focus ST built by M&J Enterprises. Again the engine and transmission are the same. Here the power is improved by 30 percent, while the torque by almost 20 percent.
Here the special combination between Ford Racing engine and suspension modifications combined with Cosworth specified wheels and tires, bring the 330 horsepower (423 kW) to the pavement. The Tangerine Scream finish and subtle graphics signal an appreciative nod to an authentic motorsports heritage.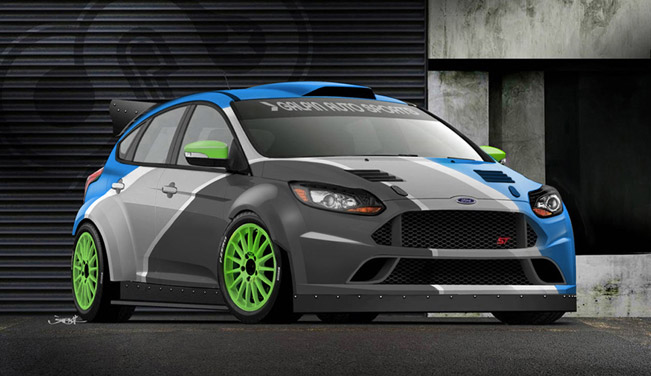 2013 Ford Focus ST built by Galpin Auto Sports is the fourth tuning. It has a rally car DNA, because the vehicle dynamics have been brought to another level with coil-over springs, big brakes, methanol injection and a rally-ready body kit.
An eye-catching paint scheme and upgraded interior finishes the expressive design. The result is a fun to drive, great looking rally car equally at home slinging mud or cruising the boulevard.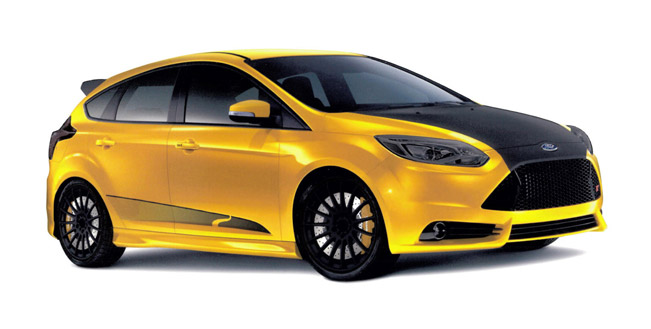 At last but not least comes the 2013 Ford Focus ST built by Steeda Autosports. As the previous one it is equipped with 2.0L EcoBoost matched to Six-Speed Manual Transmission. Here Steeda takes the challenge to offer increased performance, improved handling, aggressive looks and performance feel. Steeda G-Trac suspension modifications, Brembo brakes and a 19-inch custom wheel and tire package takes power to the tarmac.
Source: Ford