Hyundai IONIQ at Geneva Show: Is this Lineup that Exciting?

Hyundai Motor presented the special IONIQ lineup at the Geneva Motor Show that consists IONIQ Hybrid, IONIQ Electric and IONIC Plug-in vehicles. And with three electric engines, IONIQ will try to make zero-emission mobility priority for everyone. Of course, all of the models show beautiful looks, combined with functional utility gadgets. So, let's check out what the Geneva audience witnessed today.
This new lineup is extremely important for the brand and it is expected that it will become one of Hyundai's most popular so far. But why is that?
IONIQ Hybrid and IONIQ Plug-in feature the latest Kappa 1.6-liter GDI direct injection  four-cylinder power unit that provides a total of 105hp (77kW) and 147 Nm of torque. What is special about this one is it also offers a class-leading thermal efficiency of 40 per cent, compared to old models. Furthermore, the engine is paired to a quick-responding and smooth six-speed double clutch gearbox. With some enhanced dynamics, this combination offers smooth, but still a bit aggressive ride that will keep you pleased and excited.
IONIQ Hybrid's electric motor delivers a total of 43.5hp (32kW) and maximum torque of 170Nm and is powered by a lithium-ion polymer battery with 1,56 kWh capacity. Placed under the rear seats, this sweetie offers a combined output of 141hp (103kW) and up to 265 Nm of torque, when working along with the petrol powerplant.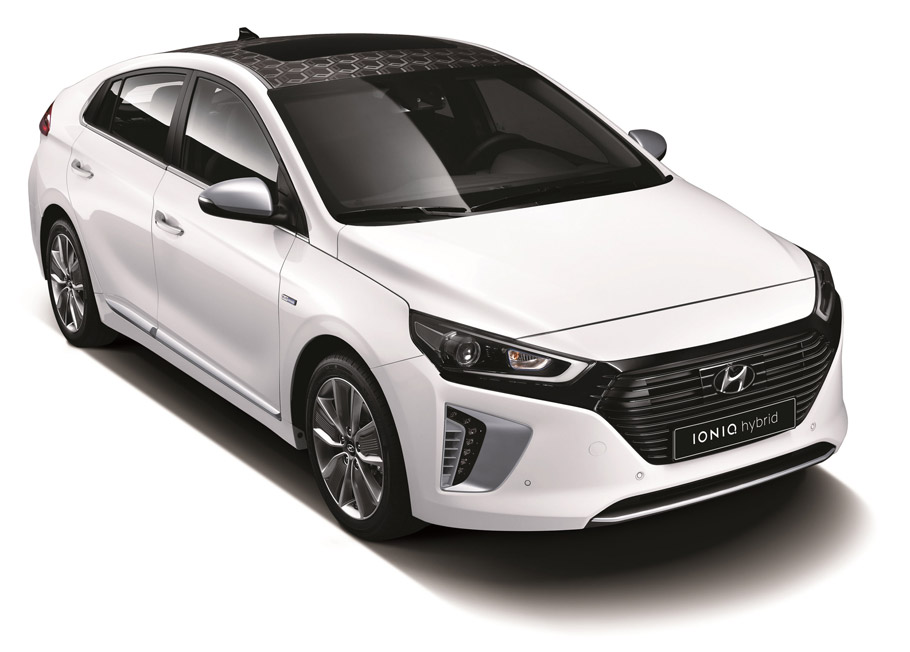 The IONIQ Hybrid's electric motor delivers 32 kW (43.5 PS) with maximum torque of 170 Nm, powered by a lithium-ion polymer battery with 1.56 kWh capacity positioned under the rear seats. In combination with the 1.6-litre GDI engine IONIQ Hybrid offers a system output of 103.6 kW (141 PS) and up to 265 Nm of torque accelerating to a top speed of up to 185 km/h (115mph) with targeted CO2 emissions as low as 79 g/km (combined).
SEE ALSO: 2016 Hyundai i20 Comes With More Confidence Than Ever
On the other hand, buyers who prefer the IONIQ Plug-in will be rewarded with almost 50 kilometers (31 miles) of electric drive range, via the 8.9 kWh lithium-ion polymer battery. This 61hp (45kW) motor, along with the 1.6-liter GDI four-cylinder Kappa has CO2 emissions as low as 32 g/km.
And people who prefer IONIQ Electric will benefit from pure e-mobility with the 28 kWh Lithium-ion Polymer batter that can cover up to 250 km (155 miles). A rather rewarding choice, this vehicle produces 120hp (88kW) and 295 Nm.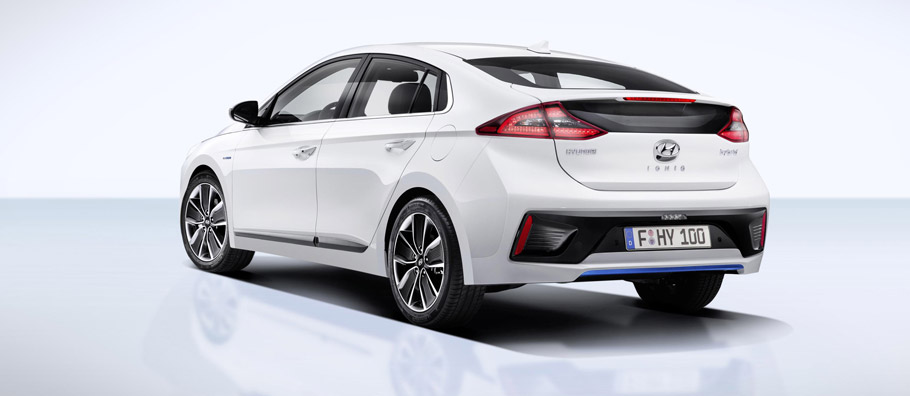 Along with the impressive and efficient drivetrain system, IONIQ also offers and functional interior with tons of gadgets, some of which are Android Auto, Apple Car Play, Tom Tom live services, 7-inch TFT and many more. In terms of safety and utility, IONIQ lineup comes with Autonomous Emergency Braking, Lane Keep Assist System, Blind Spot Detection, Rear Cross Traffic Alert, Smart Cruise Control and more.
The IONIQ lineup will celebrate its world debut at Geneva Motor Show on March 1st, at the Hyundai Press Conference at 10:30 CET on Hyundai stand.
Source: Hyundai