Is Hyundai IONIQ the Hybrid Car We Have Been Waiting For?

Hyundai IONIQ is probably one of those vehicles I have been longing to see due to its versatile forms of fuelling and innovative ecological approach. Well, it is now here… or at least in its hybrid form. If you are not familiar with the car, it is an advanced, alternative-fuel compact vehicle, which will eventually be offered with a choice of three powertrains: electric, plug-in gasoline/electric hybrid, and gasoline/electric hybrid.
The car is definitely a result of Hyundai's way to go with the trend and 'spoil' always-changing customer's lifestyles by breaking the mould for hybrid vehicles. In other words we have here and average design and great fuel efficiency. And do not expect more. In fact, the design of the car seems to me something of a mix of Ford Focus' sides (and a little bit of the front) and Prius' tail. But that's just an opinion…
SEE ALSO: Hyundai Releases Couple of Detailed Teasers of IONIQ
Since the IONIQ Hybrid is the first of the trio that has been unveiled we should say a word about it. It is equipped with new 1.6 GDI four-cylinder Kappa engine and 32 kW (44 PS) electric motor. The latter is powered by a Lithium-Ion polymer battery. The combined output measures 104 kW (141 PS) and 265 Nm (196 lb-ft) of torque. The powertrain is linked to a new six-speed dual-clutch transmission (6DCT), which offers responsive performance and a slick gear shift, and of course great fuel economy.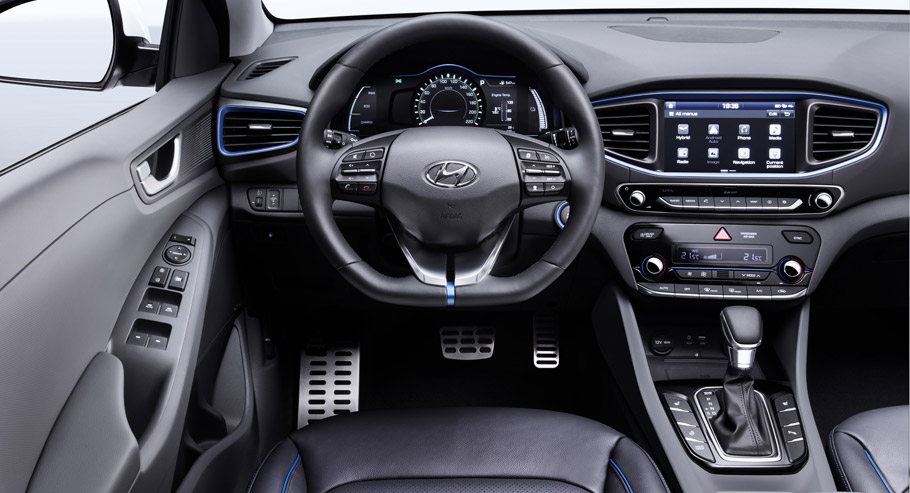 In addition, Hyundai also disclosed that the car is based on an exclusive new platform, which allows the driving performance of the IONIQ to be similar to that of a regular compact car. Ride and handling, noise, vibration and harshness were specially tuned to deliver superior ride quality and comfort.
There are also a lot of convenience, safety and connectivity features included like the Apple CarPlay and Android Auto and 7-inch TFT information cluster. A host of innovative future-ready active and passive safety features protect the driver and passenger. Precisely we have electronic systems like Autonomous Emergency Brake, Lane Keeping Assist System, Lane Departure Warning System, and Blind Spot Detection with Rear Cross Traffic Alert.
IONIQ Hybrid is another car in the list of the expanding hybrids. Hyundai's approach will make "electrification and mobility" more accessible throughout the world. Despite the expectations of setting a new benchmark, I think that IONIQ will be just another average hybrid car. But let's not rush with the judgments and see the other two variants. The trio will be unveiled at the 2016 Geneva Motor Show in March.
And in case you are interested, IONIQ Hybrid will go on sale in Europe during the second half of this year.
Source: Hyundai