Infiniti Reveals the Concept Based Q60 Sports Coupe

Infiniti Q60 sports coupe has been finally unveiled. The place is of course the currently on going North American International Auto Show (or NAIAS for short) in Detroit. You can have a taste of what's to drive it even from the pictures. By the way don't miss them in our gallery below. The Q60 is undoubtedly designed and engineered to perform. It is based on the concept that was revealed at the same event one year ago. This daring design you see on the images just give a little hint on the exhilarating performance and dynamics that the car offers.
Elegant but at the same time bold, the exterior of the model is all about power expression. Its proportions and taut, muscular lines are designed to complement its character. Speaking of it, at the heart of the Q60 is the 3.0-liter V6 twin-turbo engine, taken directly from the exclusive "VR" powertrain family.
SEE ALSO: Infiniti Reveals Q60 Concept
Even better, the six-cylinder powertrain will be offered in two power ratings: 300 horsepower or 400 horsepower, both channeled through the Q60's rear wheels. As a matter of fact the latter is expected to offer one of the best power-to-efficiency ratios in the sports coupe class.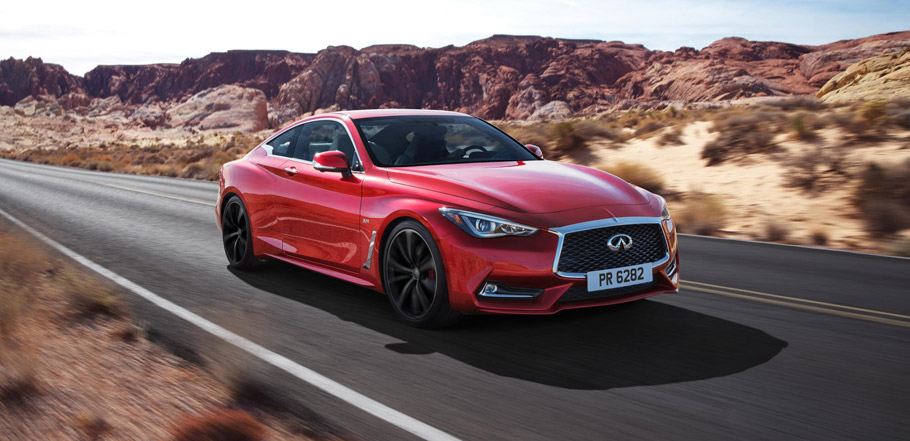 The driving experience? Could you expect little less than engaging? Q60 balances ride comfort and agile handling, supported by Infiniti's new Dynamic Digital Suspension. This technology has been engineered to provide crisp handling responses and superior ride comfort.
Another very cool option featured here is the second-generation Direct Adaptive Steering. It brings enhanced levels of steering feel and feedback to the Q60, while the Drive Mode Selector gives drivers the option to personalize the steering's precise responses to their wish.
At NAIAS Infiniti has also debuted the Q50 sports sedan and the QX60 crossover facelifts. So if you are somewhere near, go see them!
Source: Infiniti