KW Variant 3+ & Clubsport for 2011 Audi RS3 Sportback
KW has introduced Variant 3+ and Clubsport kit for the hottest hatchback on the market – 2012 Audi RS3.
The Variant 3+ coilover kit is specially created to improve the handling without sacrificing the ride quality. The kit has 16 levels of damping adjustment as well as height adjustment between 5-35mm at the front and 0-25mm at the rear.
The Clubsport kit is available in both 2-way and 3-way adjustment. It is specially prepared for using on the tracks using racing springs and high-performance dampers. What is more, KW's Clubsport coilovers are fine tuned on the Nurburgring for maximum performance. Each damper system features a separate expansion tank to allow independent adjustment of compression in both high-speed (14 levels) and low-speed (6 levels) driving. The KW Clubsport 2-way and 3-way is also height adjustable by 5-35mm at the front and 0-25mm at the rear.
Additionally, the KW 3-way Clubsport Suspension comes supplied with preassembled aluminium uniball strut mounts which are also adjustable and which allow optimum fine-tuning for various sports tires and tracks.
Despite its immense circuit ability, KW's Clubsport coilover remains TÜV approved allowing the RS3 to be driven to and from circuits with ease.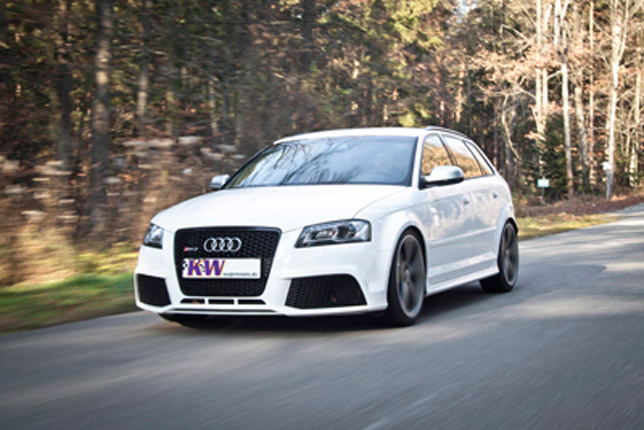 Source: KW