LARTE Design reveals more details about the new mystical Black Crystal project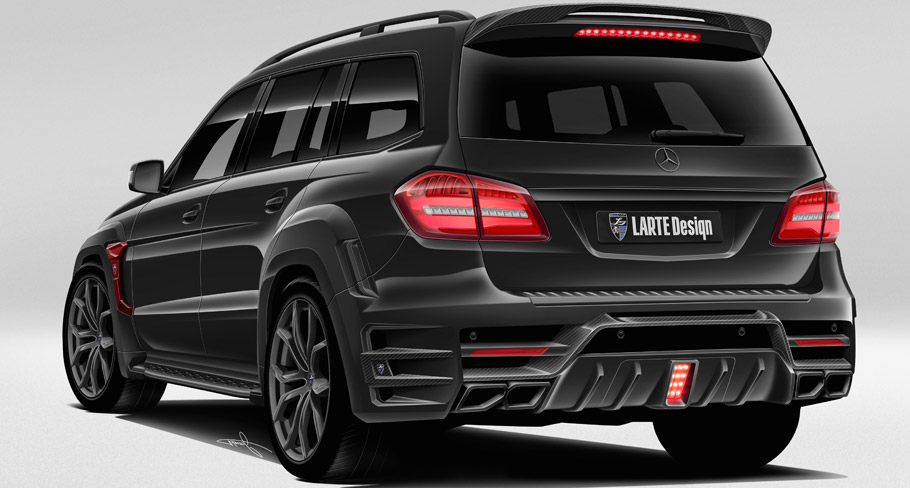 This image shows the blackout variant of what we have previewed as the latest Black Crystal in LARTE Design's family. Although we have been left with the impression that the new vehicle will be white, it seems that there is a variant in the opposite color. Whether LARTE will keep both color versions stay unclear.
What we know so far is that the project, which will be exhibited at the MIAS event in Moscow, is based on the new Mercedes GLS. The Russian studio says that its new project is a marvelous new tuning car, which features a brand new tuning kit.
SEE ALSO: Another Crystal added to the range of LARTE Design's exclusive Mercedes-Benz projects 
Precisely, the latter comprises of a front and rear bumpers with carbon fibre inserts. Since we have only received the image of the rear, what we can spot is that it looks very massive, sporty and aggressive due to the addition of the huge air diffuser, four extraordinary exhaust pipes and a lot of carbon fiber elements.
Keeping it a secret, the front is said to have a brand new bumper with masculine lines and a new radiator grill sporting the LARTE horseshow logo. At the sides, there will be new side pads which are reminiscent of tuner's variant of the amazing Mercedes GL Black Crystal. Carbon shielded air intakes will adorn the fenders.
Besides the GLS Crystal, LARTE Design will basically exhibit its entire portfolio, including the business road-jet Mercedes V-Class Black Crystal and the "electrifying" Tesla Model S Elizabeta. There are rumors that the V-Class will appear with a brand-new front and rear bumpers made of composite materials and decorated with carbon fiber elements, so we are excited to see the change, too.
Moscow International Automobile Salon (MIAS) opens gates on 24th of August and closes on 4th of September. LARTE Design's booth is located in hall 3 (pav.13, booth B106).
Source: LARTE Design