LARTE Design launching the outstanding Mercedes GLS Black Crystal

Visitors of Moscow International Auto Show see for the first time the unique project
LARTE Design made a blast at the Moscow International Automobile Salon (MIAS) with the reveal of the long-awaited Mercedes GLS Black Crystal project. The vehicle looks imposing with its masculine stance, which has been enhance via more than 50 additional parts, made from exclusive materials like the lightweight carbon fiber and basalt. In addition, the tuning studio did some special painting works, further adding to the strong image of the modified Mercedes GLS.
After waiting a significant amount of time to see the first photographs of the SUV, we now get to see them and we feel kind of impressed. A lot of craftsmanship is involved here and more importantly, the result is of a stand-out vehicle.
SEE ALSO: LARTE Design reveals more details about the new mystical Black Crystal project 
To go further into details, the new front bumper has features like the carbon fiber inserts and splitter. On its right and left sides we see harmoniously blended elements - the Black Crystal Swarovski, symbolizing the name of the pack. In addition, the radiator grille is adorned by carbon fiber and the logo of the company in the form of a horseshoe.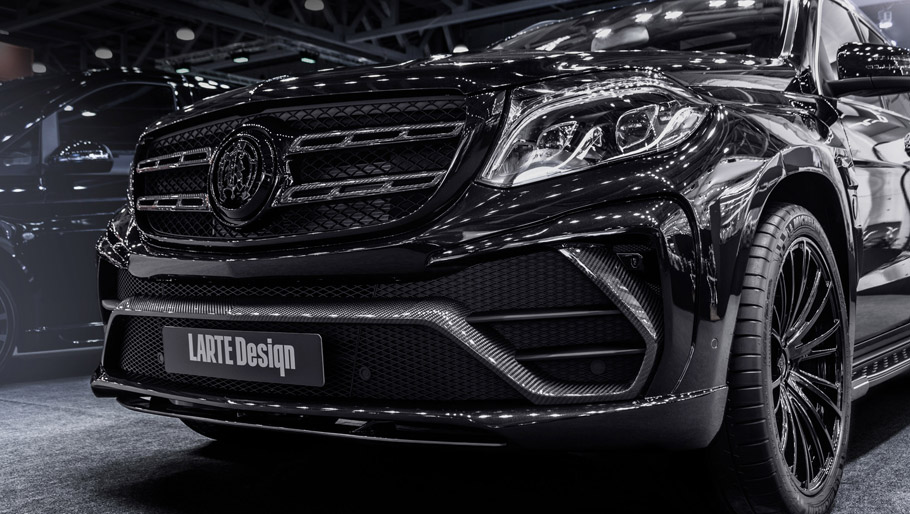 The sides have been widened and also feature carbon inserts. The lightweight material is to be all over the car, for instance: the rear bumper which features carbon inserts or the all-carbon dual exhaust tips.
What is more, as mentioned there is another very strong and extremely light in weight material used in this project. It is namely the basalt, which has been made by vacuum infusion technology. By the sides of the Mercedes GLS Black Crystal stood the V-class Black Crystal vehicle, which features a tuning that shows how one can beautifully transform a minivan like this.
Source: LARTE Design