LARTE Design offers new tuning pack for the popular Mercedes-Benz V-Class Black Crystal project

The extras included make the V-class Black Crystal the perfect luxury family car for business people
This week has started with the announcement of LARTE Design's Mercedes GLS Black Crystal, which will be revealed at the Moscow International Automobile Salon (MIAS) on August 24th. But besides this exclusive project, the Russian tuner is about to show there all emblematic vehicles in its portfolio, including the Tesla Model S Elizabeta and the V-class Black Crystal. By the way, the latter has received some additional updates, and now LARTE is introducing them ahead of the show at the end of the month.
On the pictures in the galley you will see a white variant of the LARTE Design's Mercedes-Benz V-class Black Crystal. The pictures have been taken in a lovely place in front of an American styled house, depicting the perfect and harmonious atmosphere.
SEE ALSO: LARTE Design reveals more details about the new mystical Black Crystal project
As you know, if you have followed the projects of the tuners, the bespoke van is the perfect companion for long-distance business trips, VIP-shuttling and management level meetings. But it is also great for family trips with kids; and this is entirely due to the space and comfortability it offers.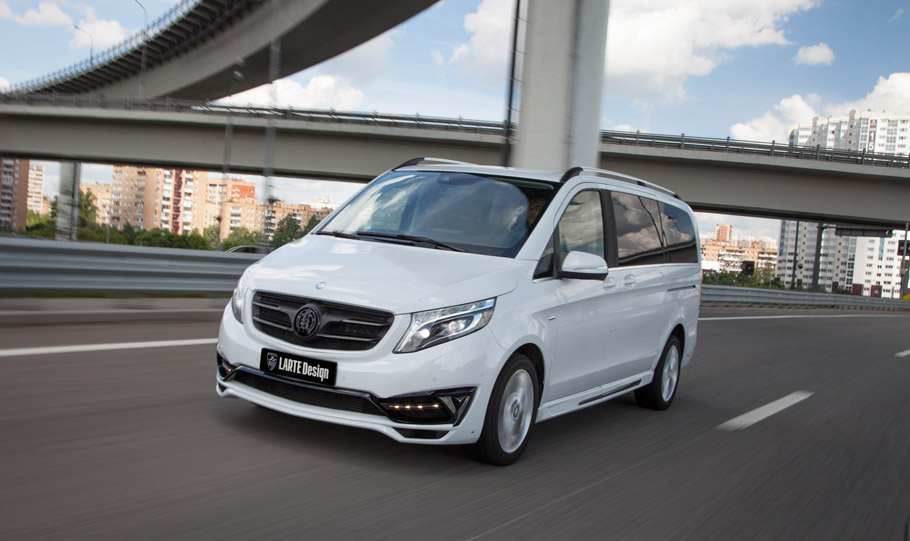 The appearance of this V-Class Black Crystal is also something to ponder on. It is striking:  looking like a precious diamond and attracting the glances of everyone. But it couldn't be otherwise. Just look at its expressive body design and forms, offering refined and stylish performance.
This of course is due to some extra add-ons, including the in-house made brand-new front and rear bumpers, new radiator grill with LARTE horseshoe logo on it. The tuning pack also includes side sills and stainless steel tail-pipes. And if you wonder why this project is named Black Crystal, it is because of the two black Swarovski crystals embedded in the front bumper. The iconic for the tuning company look is rounded out by the stunning LED daytime running lights. All parts are made of composite materials, while just some elements are covered with carbon fiber. This white version of the V-class Black Crystal by LARTE Design is the perfect vehicle for those wanting to express their high status and at the same time bring the home on the road.
Source: LARTE Design