Mercedes-Benz CLA Gets Ready for 2015 with More Features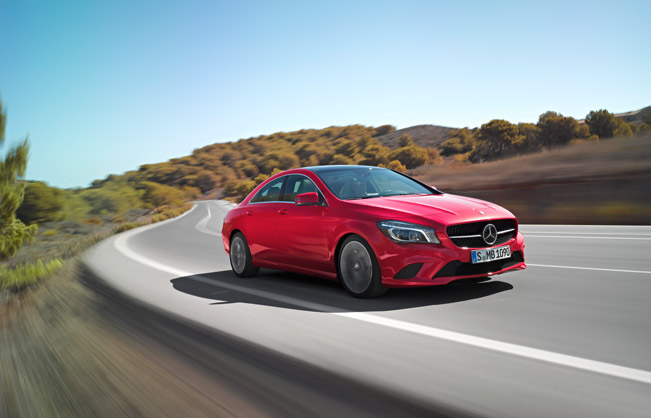 Mercedes-Benz CLA is getting enhanced for the 2015 model year with more technical features, appointments and available options. The most important changes made by the German company include modifications regarding safety, comfort, infotainment, ambience and output. In teerms of comfort Mercedes is offering the optional extra of KEYLESS-GO. This feature allows for keyless starting as well as opening and locking. The access and drive authorisation system makes this possible only via carrying the electronic key on one's person.
The safety of the 2015 CLA will be additionally strengthened via the COLLISION PREVENTION ASSIST PLUS, which extends the functions of COLLISION PREVENTION ASSIST by addition autonomous partial braking. The latter helps reduce the risk of rear-end collisions. For instance, if a driver couldn't act when the risk of a collision is detected, despite the warning light and audible alerts, the system automatically triggers the partial braking.
Furthermore, the standard ATTENTION ASSIST system has been upgraded. It operates within an extended speed range of 60 - 200 km/h and utilizes a five-stage bar display to visualize the driver's current attention level. Next, Traffic Sign Assist now recognizes additional traffic signs, speed limits and no-overtaking restrictions.
The infotainment of the CLA will benefit from the next gen of telematics which include even more intuitive controls, animated menus and visual representations on the head unit display. As an option, Mercedes-Benz is offering an 8 inch free-standing display.
In addition, "Mercedes connect me" standard services are provided as part of the basic specification, but they can also be enhanced via other options. Convenience Telephony will be able in the future to connect in to high-speed LTE networks, while the standard Media Interface allows the connection of Apple devices using the "Apple Lightning" interface.
The occupants of the model will enjoy the improved ambient lighting system that now offers twelve colour schemes that can be selected to suit taste and mood. The trim is available in a satin-finish light brown poplar wood variant. AMG 19-inch multi-spoke light-alloy wheels painted in black and with a high-sheen finish will come as optional equipment.
At last, but not least, the CLA 220 CDI comes with an extra 5 kW (6.8 horsepower). This means that this particular model will be capable of delivering 177 hp (130 kW) and 350 Nm (258 lb-ft). The acceleration time from 0 to 100 km/h is now covered in 8.2 s, and the top speed is 232 km/h. The combined consumption is rated at 4.0 l/100 km, while the CO2 emissions – at 104 g/km. Mercedes-Benz CLA 180 CDI has now emissions of only 99 g CO2/km.
Source: Mercedes-Benz