Mopar, Jeep with Six Models for Moab
Working together, Jeep and Mopar have prepared themselves to tackle the annual Easter Jeep Safari in Moab, Utah – an event that has already begun and will last until April the 8th. It is being held for the 46th time and is supposed to delight the hardcore off-road enthusiasts with lots of thrills, obstacles and challenges…bumpy challenges. Mopar, being already in the business for 75 years, is now creating a division that will exclusively deal with off-road vehicles:
"Mopar is tapping into a growing trend among extreme Jeep enthusiasts who want even more power and capability on the trail," said Pietro Gorlier, President and CEO of Mopar, Chrysler Group LLC's service, parts and customer-care brand. "This year, Mopar is pushing the envelope in this arena by offering our customers new Pro 60 portal axles and a new HEMI conversion kit, which we will showcase in these new vehicles. In addition, to further maximize our presence in the off-road market, we are creating a Mopar Off-Road division to develop Jeep Authentic Parts and Accessories."
Roll in the subjects then:
The Jeep Grand Cherokee Trailhawk Concept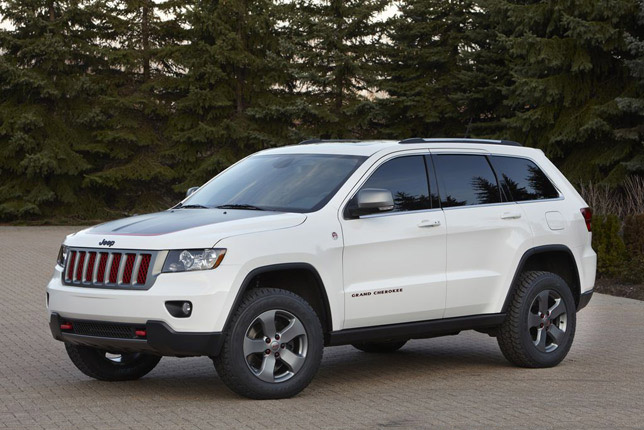 If you are looking for something stacked full of technology, the Cherokee is the way to go. In essence those are features found in many other off-roaders but they, Jeep call them just makes you want to have them in particuliar: Quadra-Lift™ air suspension, Selec-Terrain™ traction control system, Jeep's Quadra-Drive® II 4x4 layout and a rear Electronic Limited-slip Differential. There are also Adventure packages available and tow/recovery hooks that have been rigorously tested with twice the weight of the Cherokee itself.
However, one does not need to know all of that in order to be convinced about the off-roadishness of the Cherokee. The Trailhawk Concept's 5-spoke alloy wheels come wrapped with four 18-inch Goodyear Wrangler SilentArmor off-road tires – grippy on the back roads, quiet on the tarmac. Mopar rock rails further add to the off-road security.
Accessory wise, the Trailhawk showcases a Stone White bodywork with Mineral Grey and Red motives. Specifically, the grille surround, lower front applique, mirror caps and rear light bar join the wheels in Mineral Gray, while contrasting in eye-catching Red are the upper grille mesh, front and rear tow hooks, Jeep logos on wheel center caps and bolt holes in the alloy wheels.
Other minor changes include black headlamp surrounds, black exterior front and rear badging, Red "Trail Rated" badges on the front fenders and a unique "Trailhawk" badge on the rear tailgate.
2012 Jeep Wrangler Apache from Mopar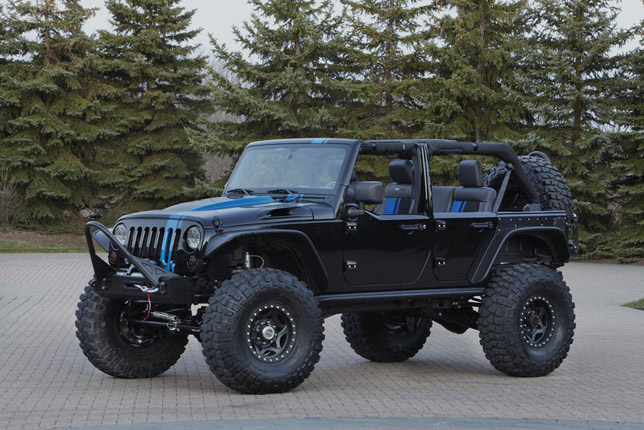 The V8 6.4-liter HEMI engine is the highlight in this one. It's been specially tweaked by Moper and it now delivers 470 horsepower and just as much lb-ft of torque. Initially, Chrysler Group's W5A580 five-speed automatic transmission will have to cope with that mountain of power while later on a six-speed manual, taken from the 2012 Wrangler, will also be available.
Other performance parts on the Jeep Wrangler Apache are the Mopar Pro 60 5.13 front and rear axles, a 4.5-inch Stage 3 long arm lift kit and off-road bead-lock wheels. Aesthetic and functional modifications include high-clearance flat fenders, rock rails, front and rear half-door kits, a Stinger front bumper, a Warn 9.5ti XP winch, Katzkin leather seats, a locking center console box and a Mopar branded interior.
Jeep Mighty FC Concept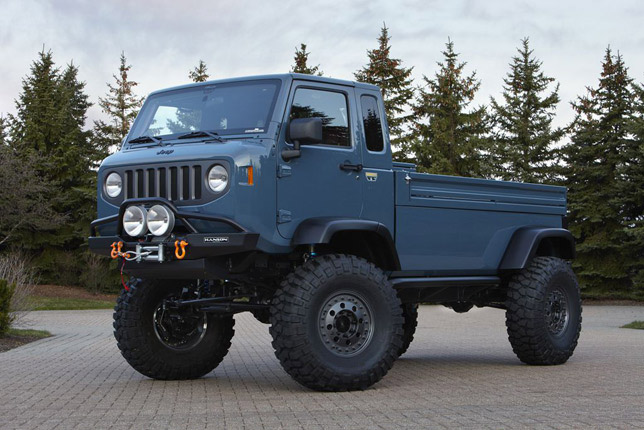 The Mighty FC Concept is basically a 2012 Jeep Rubicon that has had its cabin moved to the front and over the front axle. The wheelbase however, has also been extended and a drop-side cargo box has been custom made for it.
For stunning off-road feats, Moper have installed their latest Portal Axle set supervised by King coil-over assemblies (King shocks as well) and Teraflex control arms and track bars. The tires measure 40-inch each and devour the 17-inch beadlock wheels.
Other brands have pitched in the making of the Mighty as well – Hanson bumpers, a 16.5 Warn winch and stainless steel exhausts from Corsa.
Jeep J-12 Concept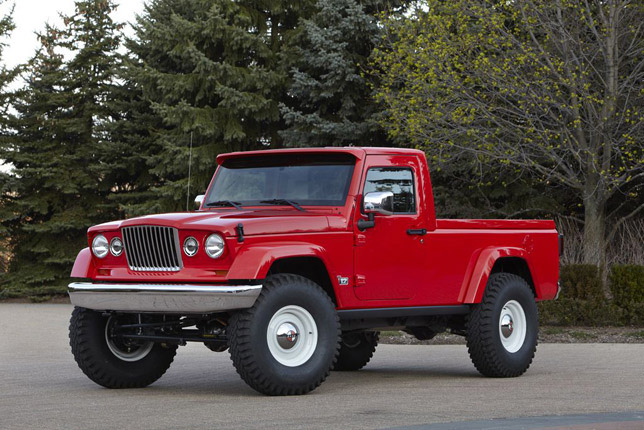 The J-12 is a longer JK-8. The JK-8 is a previous project by Mopar that includes a pickup conversion kit for the Jeep Wrangler. For the base, they used a 2012 Wrangler Unlimited and by extending the frame by 18-inches, the tire could be moved under the bed floor thus making room for a six feet long cargo box. The vintage, Jeep Gladiator feel is courtesy to the custom hood and fenders.
In order to tackle rocky terrains, Mopar have fitted a three-inch suspension lift kit, as well as Teraflex sway bars controlling ARB air-locker equipped Dynatrac D-44 and D-60 axle assemblies. The 36-inch tires burrow deep into the ground, providing as much traction as possible.
The cabin follows a minimalist build with no carpets, and no bucket seats. You get a bed liner on the floor instead and a bench-like seating for two.
Mopar Accessorized 2012 Jeep Wrangler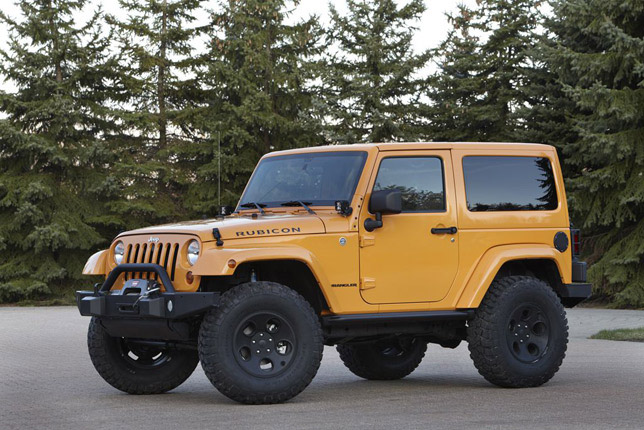 This one is simply a Wrangler, stacked with Mopar Accessories - a two-inch performance lift kit, 35-inch Goodyear Wrangler tires mounted on Classic five-hole wheels, front and rear off-road bumpers, a Warn 9.5ti XP winch, Mopar rock rails, Kicker dash 6.5-inch two-way speakers, Mopar all-weather mats and more.
Moreover, this particular one has a locking center console box, a rear cargo cubby cover, new windshield-mounted LED lamps, a new hard-top headliner and an "Add-A-Trunk" partition.
2012 Jeep Wrangler Traildozer Concept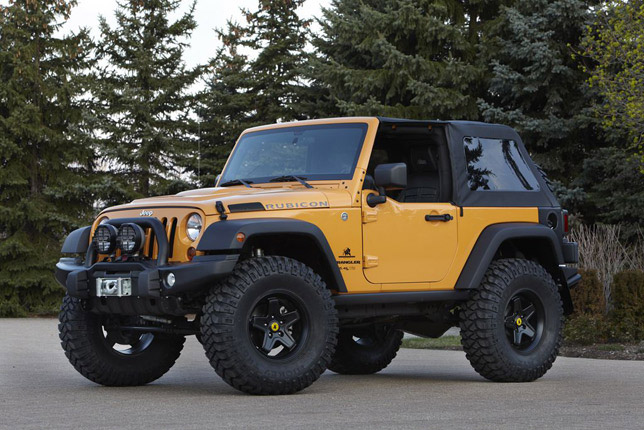 The Traildozer is a joint venture between Mopar, Jeep and the American Expedition Vehicles (AEV) engineering team. It has the same V8 6.4-liter HEMI that the Wrangler Apache uses (470 hp, 470 lb-ft of torque) but the gearbox is a Getrag 238 six-speed manual.
The ride is 3.5 inches higher than usual thanks to an AEV Dualsport RS suspension lift and thus it provides clearance for the 37-inch tires mounted on the Mopar Classic five-spoke wheels.
Other attributions by Mopar include a performance heat reduction hood, a half-door kit and a Mopar/Warn 9.5 Cti winch.
Source: Jeep