Mopar's Garage at Chicago Auto Show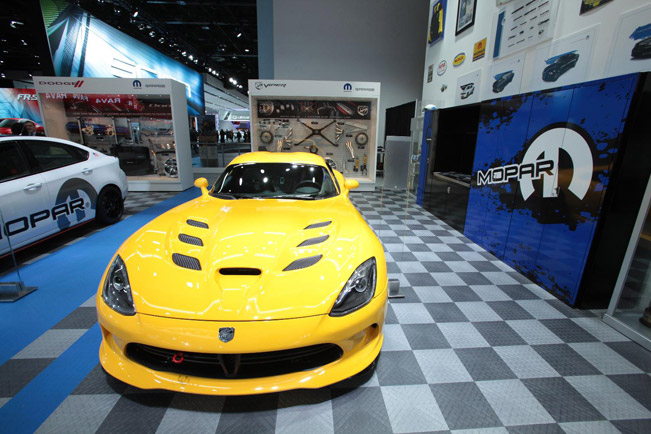 Mopar's garage will be exclusively featured by Chrysler at this year's Chicago Auto Show. There will be exhibit of Mopar parts and accessories for the company's Dodge Dart, Fiat 500 and 2013 SRT Viper.
In total 300 selected Mopar performance parts and accessories will be shown all paying tribute to customization. In fact, Chrysler and Mopar offer more than 500 000 quality-tested parts and accessories worldwide. Now, the brand will show how customers can personalize three of its new vehicles and furnish their garage in full Mopar style.
Furthermore, inside of the Mopar garage will be the recently teased Mopar '13 (at the show it will make its debut) as well as a fully Moparized 2013 SRT Viper. Additionall, there will be put an accent on both NHRA 2012 championship trophies won by Pro Stock driver Allen Johnson and Funny Car racer Jack Beckman.
What is more, for those who want to make their own Mopar garage, there will be offered toolboxes that include brand's logo and are available in three colors: Mopar Blue, HEMI Orange and White. There will be also introduced a full line of standard and commercial-grade custom cabinetry.
Mopar-first Features:
Vehicle-information applications
Electronic owner manuals: traditional owner manuals in a DVD and brief user-guide format; complete vehicle-information kits in Spanish
Wi-Fi
Wireless charging for portable devices
Electronic Vehicle Tracking System (EVTS) that sends owner a text when vehicle is driven too fast or too far based on pre-set parameters
2011 Mopar Challenger Drag Pak: 500-plus cubic-inch V-10 drag-race package car
Brand-specific customer care telephone lines: Sunday service hours for customers
WiTECH: supports vehicle diagnosis and software updates leveraging off-the-shelf personal computers and a dedicated wireless tool network