Nissan 350Z
Nissan will be unveiling for the first time anywhere in the world a new model which will reinforce the company's profit and growth aspirations in Europe. Carlos Tavares, Nissan's Executive Vice President for Corporate Strategy and Product Planning, will present the new model at Nissan's press conference at 1115 on Tuesday 6th March (1st press day). No further details will be released until the press conference.
As well as the world premiere, Nissan will also be showing the new, updated 350Z which will reinforce its credentials as a pure sports car with thrilling, involving performance.
With the fitment of the next generation 3.5 V6 engine - engine code VQ35HR - power has risen to 313PS (230kW) at 6800rpm and torque is now rated at 358Nm at 4800rpm, while the maximum engine speed has increased by 500rpm to 7500rpm. Nearly 80% of major engine parts are new, providing improved acceleration and responsiveness.
To achieve the additional performance, a dual intake system has been fitted and the variable valve timing system has a wider range of operation, plus the addition of a common length exhaust manifold reduces back pressure. Those changes combine to boost low and mid-range torque.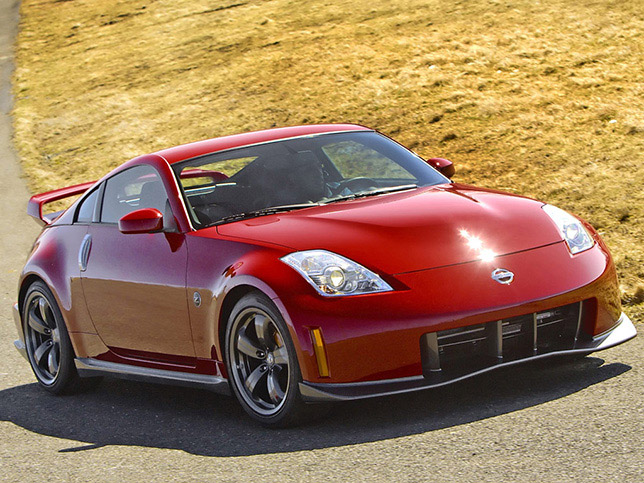 In order to achieve the higher rev limit, the crank journal and crank pin have increased in size. At the bottom of the engine, a ladder frame has been added to stiffen the crank and reduce vibration.
The introduction of a second knock sensor, an asymmetric piston pattern, improved cylinder cooling and iridium spark plugs will combine to improve the efficiency of the ignition cycle, while an increase in compression ratio from 10.3 to 10.6 has liberated more top end power. Despite all these changes, weight and fuel consumption remain unchanged, but the engine's centre of gravity has been lowered by 15mm.
To accommodate the new engine the front bonnet has been discreetly redesigned and is now reminiscent of the original 240Z, thanks to a slightly raised profile, while three new exterior colours will also be offered. Temper Orange is a striking shade but also contains a subtle green "flip" which can be seen in soft light and gives the car a surprising tone, while a new grey - Precision Grey - and Night Blue complete the colour line-up.
Inside, a new trim has also been introduced, which is called Frost Grey. It is a pale tone and adds a touch of sophistication to the car's interior. As well as a new interior trim colour, another important change to the interior is the fitment of Active Headrests, to minimize the chances of neck injury in the event of a rear impact.
And to improve on-road refinement, the 350Z is now equipped with Bridgestone Potenza RE050A tyres, however grip levels remain unaffected.