Nissan Launches 2014 Teana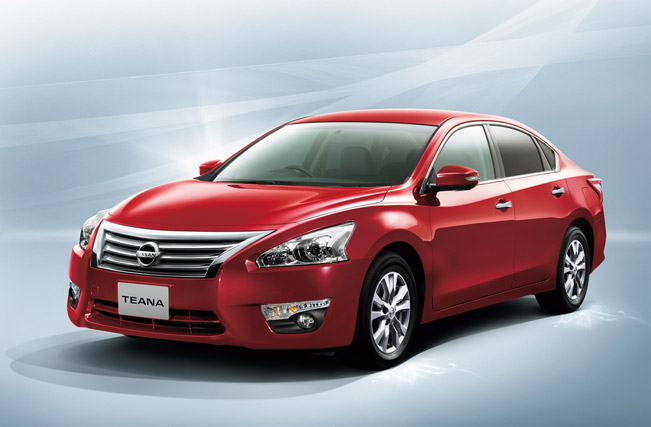 2014 Nissan Teana has been launched today and has been specifically prepared for the Japanese, Chinese and North American markets. This is the third-generation Teana, which is created under the theme of "driving performance". In fact, the car optimally balances driving performance and comfort.
Of course, as a true Nissan model, the new Teana has a premium visual stance. The exterior is sportier and more vibrant, wider and more aggressive. The sharp character lines of the model are extending from the front face rearward and evoke fluid momentum. The car also features improved aerodynamic efficiency.
Next to the existing exterior colors, the designers at Nissan added a new one - "Waterfall Blue" which was inspired by the hue of a waterfall and which highlights the premium presence and quality feel of the sedan.
The interior on the other hand, inherits the concept of Omotenashi. In Japanese Omotenashi means hospitality, which fully takes form inside the cabin. The latter is highlighted by a distinct character line that stretches from the instrument panel to the door trim. In addition, inside there is enough space for 5 occupants.
The front seats have gotten a new design features one of which is the "Spinal Support Technology" that greatly improves passenger comfort. The front passenger seat has been enhanced and now includes an enlarged support area of the ottoman, while rear-seat occupants are treated to ample knee room.
In terms of performance, 2014 Teana has been fitted with a new multi-link rear suspension system, which provides excellent turn-in response, supple ride quality and enhanced handling. The Active Trace Control refines handling and minimizes steering corrections.
Under the hood of the car "sleeps" the QR25 engine that comes coupled with Nissan's XTRONIC CVT transmission. This combination delivers exceptional acceleration, an ample supply of low- and mid-range torque, as well as great fuel economy (14.4km/L).
When it comes to safety, a wide variety of safety and convenience features are at hand. To name one, there is available the crash avoidance support technology - Around View Monitor (AVM) with Moving Object Detection (MOD). This system detects moving objects around the car, and is helpful when maneuvering in parking lots.
In addition, there is also being included as an option the Blind Spot Warning (BSW) and Lane Departure Warning (LDW) systems. The Advanced Drive Assist Display offers navigation and controls for the in-car entertainment system, as well as important data for the car's numerous safety features.
2014 Nissan Teana will go on sale on 5th of February at brand's showrooms in Japan.
2014 Nissan Teana Specifications:
Design
Exterior design:

Stately front grille with three-dimensional design

Canted headlamps that suggest a piercing look of the eyes

Horizontally U-shaped clear-cut LED rear combination lamps that give a more sophisticated impression

Side view with an accented character line flowing from front fender to the rear

Wide rear fender for a lower center of gravity

Two kinds of aluminum wheels for sportier ride

Available in six exterior colors including a new color, Waterfall Blue (Scratch Shield)

Interior design:

Instrument panel design combining enhanced interior roominess and comfort

Highly visible "Advanced Drive Assist Display" with a sense of depth

Fine Vision Meter display

Center panel with silver finisher on both sides, creating a sharp impression

Air conditioner control panel finished in deep Piano Black, enhancing a quality feel

Chrome-plated accents used throughout the interior, including inner door handles and cup holders, offering a luxury feel

Available in relaxed wood-grain accents or modern and stylish, mesh-pattern metal finisher creating a sense of depth

Driving performance, packaging
Mechanism:

Equipped with the newly-developed QR25DE engine with low- and mid-range torque improved by enhanced combustion and emission efficiencies, providing agile driving in a city and strong, stress-free acceleration in overtaking on highways

Frictional resistance reduced by up to 40 percent with about 80 percent of parts either newly-developed or improved

Paired with the engine is the newly-developed XTRONIC CVT with improved fuel economy and acceleration performance realized by a wider gear ratio

Fuel economy in JC08 mode improved by 26% from the previous-generation model by reduced driving load, regenerative braking with an alternator and adoption of electrically controlled power steering, along with enhanced engine and CVT, to achieve the 2015 fuel economy standards

Pedal stroke distance and application force are optimized based on ergonomics for improved operability by measuring the muscle movement in operating the brake pedal

Packaging:

Roomy comfortable cabin, along with stylish proportion with lower vehicle height

With side glass placed nearly vertically; ample head clearance is ensured even with lowered height

With the revised shape of front door trim, ample knee room is provided for the driver seat

With an optimized shape of front seats, rear knee room is increased by about 10 mm from the previous-generation model, providing generous knee room

Optimized shape of front seats gives a feeling of spaciousness beyond the actual size

For improved comfort for three passengers in the rear seats, flat seat surface is adopted in the center and the backrest for both sides is extended outward

The lower end of B-pillar trim is downsized to improve ingress and egress

Trunk pass-through is newly adopted, which enables loading of long items; by widening an opening of the trunk, a golf bag can be easily loaded

Coefficient of drag of 0.29 is achieved by changing the shape of aerodynamic parts.

Vehicle weight is reduced by 40kg compared to the previous-generation model, resulting in improved acceleration and braking performance

Handling stability enhancements due to the front and rear weight distribution

Comfort:

With optimized position of the ottoman, the calves are supported by an enlarged area; as stress on legs is dispersed more extensively, one feels more comfortable when his/her legs are stretched

Air-conditioned front seats with warm or cold air released through seat cushions and seatbacks to control temperature; the system can warm legs and lower back and get rid of humidity in summer to improve passenger's comfort while driving

Vibration and noise, such as wind noise, are reduced by enhanced body rigidity, optimized exhaust mount, a change of the engine mount material and optimized shape of door mirrors

Best-in-class quietness is achieved thanks to improved sound-absorbing performance; passengers can enjoy conversation in the cabin as usual while driving

Driving position can be adjusted with the height adjusted by a combination of a driver seat lifter and a tilt steering wheel, and lengthwise position by a combination of a telescopic steering wheel and a sliding seat; a range of driver sizes - from a petite woman to a tall man - are assured the ideal driving position

Intelligent Key-linked Auto Driving Position Seat is adopted, which automatically adjusts seat and side mirrors to the specific driver based on information input by individual key

Hood shape is optimized so that it is easier for the driver to see where the vehicle's front end is; improves drivability when turning left and cornering

Operability is improved by placing a shift handle 5cm closer to the driver (compared to the previous-generation model)

Newly-developed multi-link rear suspension system offers improved handling stability and ride comfort; in addition to link bushing, connect bushing is newly adopted so that both excellent response and stable cornering are offered

Advanced Equipment

Spinal Support Front Seats with articulated seat back pad is adopted for front seats; the design eases strain on spine by actively supporting heavy chest and spine to further pursue comfort in long-time driving

Active Trace Control allows cornering as intended; it applies brakes on the inside wheels when cornering or accelerating when exiting a corner

Color liquid-crystal Advanced Drive-Assist Display between meters shows a variety of vehicle information and warnings of a number of safety features to help drivers recognize them quickly

Safety Features

Around View Monitor, which provides a virtual 360-degree view around the vehicle, equipped with MOD (Moving Object Detection)  is adopted; detects moving objects on the display and alerts the driver when parking the car

Driving support features, using the rear view camera with audible and visual warnings, are adopted to support safe driving: BSW (Blind Spot Warning) which detects a vehicle in the next lane to help the driver avoid a collision when changing lanes; and LDW (Lane Departure Warning) which alerts the driver when the vehicle unintentionally drifts out of its travel lane

Other Key Safety, Convenience and Environmental Technologies

Xenon headlights

Auto light system (linked dawn sensors and linked with front wipers)

LED stop lamp

Seatbelt warning light and sound for all seats

VDC (Vehicle Dynamic Control <TCS functionality included>)

Emergency Locking Retractor (ELR) 3-point seatbelts for all seats

Dual-stage supplemental front air bags with seat-belt and occupant-classification sensors for driver and front passenger

Driver and front passenger seat-mounted supplemental side air bagsRoof-mounted curtain side-impact supplemental air bags for front- and rear-seat outboard occupant head protection

Body construction for pedestrian protection

Front seatbelts with pretensioners and load limiters Rear outboard seatbelts with load limiters and pretensioners

Cruise Control

ABS (Anti-lock Braking System), EBD (Electronic Brake force Distribution), Brake Assist

Fuel economy calculated based on JC08 mode

Every grade achieves the 2015 fuel economy standards

Every grade achieves SU-LEV certification, emitting 75% fewer exhaust emissions than 2005 standards

Achieves more than 95% recyclability rate (where recycling facilities exist)
Source: Nissan