Onyx Release Rolls-Royce Ghost Dubbed San Mortiz

The tuners at Onyx are mostly famous for their Land Rover based projects. However, we have seen a Bentley and now it is the time for one of the most emblematic luxury car in the world – the Rolls-Royce. Under the spotlight is the Ghost dubbed in this case San Mortiz.
Exterior
As the specialists say, this name is an expression of the ultimate dynamism and style. The exterior has been changed significantly, with the help of many upgrades. The most prominent new feature is the sportier San Mortiz front bumper. It has been redesigned thus creating the athletic effect. In addition, the front also features hand crafted lower satin-carbon aero plate.
SEE ALSO: Onyx Range Rover Sport San Marino - Sportier Than Ever
At the sides of the car we see lowered stance due to the added new suspension. It is complemented by a set of wheels in the size of 22 inches, while at the back the exterior of this Rolls-Royce is adorned by the quad hand crafted exhaust .The rear spoiler is also finished in satin carbon.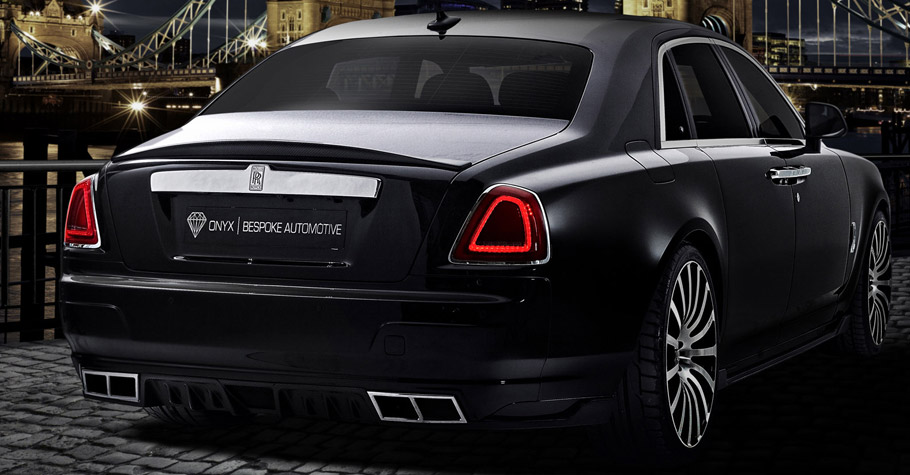 Engine
Despite the good treatment on the outside, this project is lacking the interior modification. This however can't be said about the engine, which has been upgraded to produce more than 613 hp (451 kW), in comparison to the standard 563 hp (414 kW).
Onyx also said that it will introduce a wide range of enhancements for Rolls Royce Wraith and Phantom over the next 12 months. Let's hope we will see some interior treatment next time.
Source: ONYX